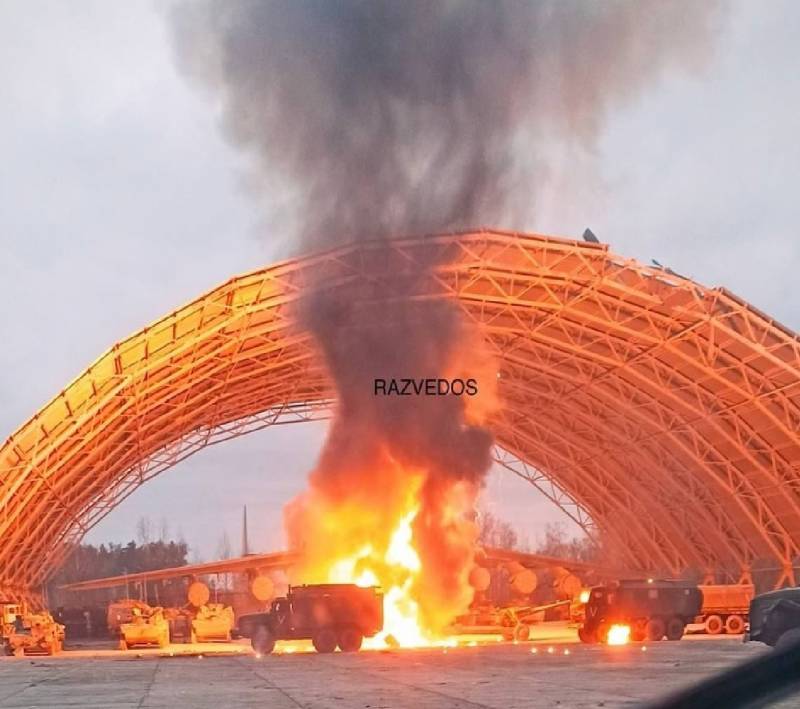 A picture of a starting fire appeared on the telegram channel of the user razvedos, which destroyed the An-225 Mriya, the only super-heavy-duty aircraft in the world.
Recall that the attack on the hangar at the Gostomel airfield was inflicted on February 27 by the Ukrainian military after the Russian paratroopers occupied this bridgehead.
As a result of the fire, the aircraft was seriously damaged and cannot be restored. The world's largest transport aircraft was built by the entire Soviet Union and first took to the air in 1988. More than 225 enterprises in all the republics of the USSR participated in the creation of the An-200, but after the collapse of the country, it went to Ukraine. Mriya was based at the Gostomel airfield in the Kyiv region, owned by the Antonov state enterprise.
In November, the general director of the enterprise, Yevgeny Gavrilov, announced plans to build a new An-225. He stated that the aircraft could allegedly be recreated on the basis of the second unfinished copy of the Mriya and the remains of the destroyed side. However, an attempt to collect half a billion euros from gullible Europeans was unsuccessful, since it is obvious that Ukraine does not have the capacity to build such a transport vehicle.