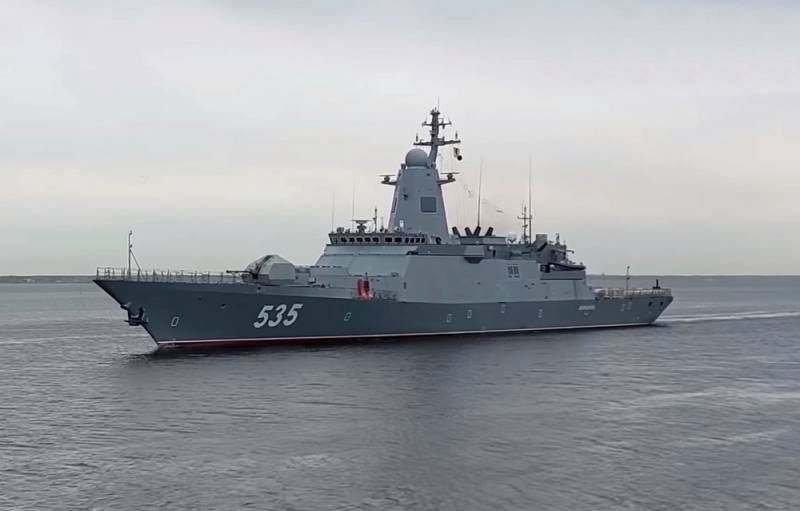 In Russia, the newest corvette "Mercury" of project 20380 has been tested. The ship, built at the Severnaya Verf enterprise, will soon join the Black Sea Fleet.
It is worth noting that initially a patrol ship assumes the presence of not too serious weapons. Indeed, in order to "drive" border violators, cruise missiles are not required.
However, in 2017, the corvettes of this project left the Baltic and entered the Mediterranean Sea through the Strait of Gibraltar, joining the operational group of Russian ships in Syria. Thus, initially, patrol vessels proved that they were able to work in the far sea zone.
In this regard, domestic designers seriously thought about the modernization of ships of this class in favor of strengthening their weapons. As a result, already the second corvette of the series received a more advanced medium-range air defense system with vertical launch installations. At the same time, in the future, it is planned to replace the Uran anti-ship complex with the 3S14 universal complex, adapted to launch the Onyx, Caliber and Zircon missiles.
The corvette "Mercury", which has been tested, is equipped with the Zaslon multifunctional radar system, the Uran missile system, the Paket-MK anti-submarine system, the Redut air defense system, and the A-100 Universal 190-mm gun mount.
To date, 8 corvettes of this type are serving in the Russian Navy, one is being tested and three more are being built. In addition, there is an even more advanced project 20385.
Regarding "Mercury", it is designed to strengthen the anti-submarine component of the Black Sea Fleet. Taking into account the current situation, sending an additional warship to this direction is extremely timely.