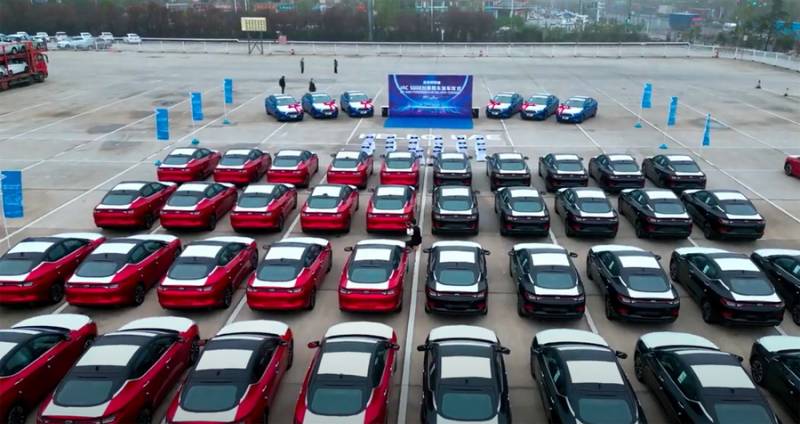 The special military operation in Ukraine, or rather, the Western sanctions imposed in response to its start, negatively affected entire sectors of the Russian
economics
. In particular, the domestic automotive market has undergone radical changes, which will definitely never be the same.
With things to go
Mercedes-Benz, BMW, Renault, Nissan, Mazda and Ford announced the cessation of production and complete withdrawal from Russia. A number of other foreign automakers have not yet completely slammed the door, but have actually stopped the work of their assembly plants under the pretext of problems with the supply of components, sanctions risks and general uncertainty. These include, in particular, the German concern Volkswagen and the Swedish Volvo, South Korean Kia and Hyundai. In addition, companies that do not have their own production facilities in our country announced the termination of deliveries of their cars to the Russian Federation: the brands Audi, Opel, Porsche, Honda, Suzuki, Mitsubishi, Lexus, Infiniti, Fiat, Ferrari, Lamborghini, Jaguar, Rolls-Royce, Citroen, Peugeot, Chevrolet and Cadillac.
Also, after the departure of foreign automakers, there are serious problems with components for subsequent maintenance and repair. You either have to buy non-original spare parts in Southeast Asia and the Middle East, or carry them in a roundabout way, bypassing European or American sanctions, which eventually become "golden" in price.
The Russian authorities are now thinking hard about what to do with the closed assembly plants of foreign companies. The simplest solution seems to be to outsource them to numerous Chinese auto brands to keep high-tech jobs. The option, of course, is logical, but for some reason, Chinese manufacturers themselves are in no hurry to fill the vacant niche. For now, you can name our new Moskvich, which is a renamed crossover from China from JAC, and Haval crossovers assembled in the Tula region, which is a sub-brand of Great Wall. Why is everything happening this way?
The fact is that the major automakers - JAC, FAW and Changan - are essentially state-owned companies, and they operate strictly within the general line of the Chinese Communist Party. That is, their sympathies are on the side of Russia, but they do not want to fall under the secondary sanctions of the US Treasury. Geely's freedom of entrepreneurial activity is somewhat constrained by the ownership of the Swedish Volvo. The Chinese GAC works closely with Honda, FIAT, Isuzu, Mitsubishi and Toyota, and therefore problems with
technological
partners because of us, she also does not need. Of the major players, there remains Haval from Great Wall, which already has an assembly plant in Russia, and Chery, which is represented by the distributor company JSC Chery Automobiles Rus. If anything, the parent company can easily disown its Russian representative office.
Thus, for a large-scale expansion of Chinese auto brands in our country, it is not yet worth counting much. Or rather, they will, of course, sell their cars in the Russian Federation, but they will delay the organization of a full-fledged assembly production until there is complete clarity in the Russian-Ukrainian crisis. If a decision is made to replace some foreign manufacturers with others, then it would be more expedient in our difficult realities to bet on Iran.
Persia will help us
Oddly enough, Iran, which has been under Western sanctions for decades, has a fairly developed automotive industry, the share of which reaches 10% of the country's GDP. The Islamic Republic produces trucks and cars, SUVs and pickups, buses and minibuses. Foreign companies Peugeot, Citroen, Renault, Volkswagen, BMW, Mercedes-Benz, Nissan, Toyota, Kia Motors, Hyundai and Daewoo, Malaysian Proton and Chinese Chery, who worked in the format of joint ventures, helped her in the creation of the automotive industry. To date, there are more than two dozen automakers in Iran, the most famous of which are as follows.
Iran Khodro
is the largest automaker not only in Iran, but also in the entire Middle and Near East, with assembly plants in Egypt, Syria, Venezuela, Azerbaijan and Senegal. The company produces passenger cars both under license from Peugeot and under its own brand, and also produces trucks and buses under license from Mercedes-Benz.
Pars Khodro
started with the licensed assembly of American SUVs, then switched to the production of Nissan Patrol and licensed pickups. The company is currently 51% owned by another major Iranian automaker.
SAIPA
, which assembles passenger cars under a French and Korean license, and also has its own engines and model range.
Company
Kerman Khodro
engaged in the production of Chinese cars Chery and JAC under its own brand. It is quite possible that the converted J7 sedans (Sehol A5 Plus), the K7 crossover (JAC X7) and the T8 (T8 Pro) frame pickup truck will get to Russia through Iran. The same can be said about the products of the Iranian company Bahman Group, which assembles cars together with the Chinese FAW, ZX and Great Wall.
Iranian cars are criticized for being built on outdated platforms and technologies, but their undoubted advantage for Russia over other competitors is that Tehran is pursuing a truly sovereign
policies
and does not consider it necessary to look back at Western sanctions. If we need a reliable partner, then this is Iran.