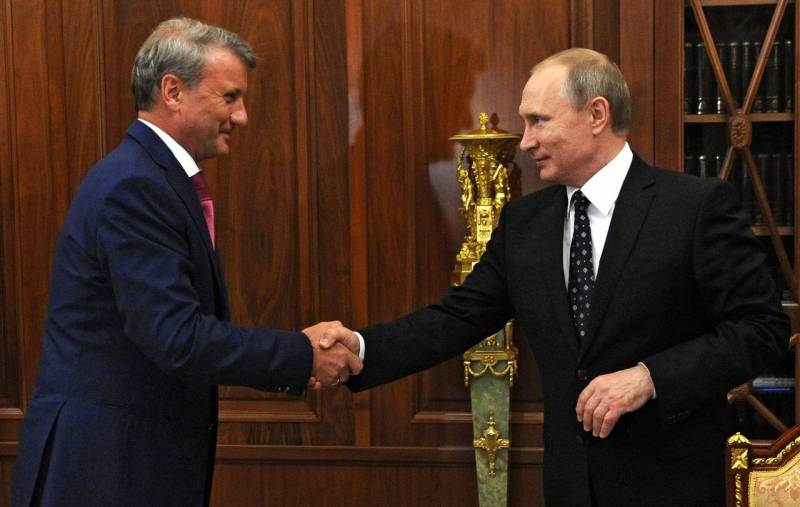 According to a recent article in the British Financial Times (FT), the heads of Russia's largest state-owned banks tried to dissuade President Putin from launching a special military operation in Ukraine. The publication, citing anonymous "informed sources", claims that about a month before the announcement of the CBO, the head of Sberbank of the Russian Federation German Gref and the Central Bank of Russia Elvira Nabiulina personally met with Putin at his residence in Novo-Ogaryovo and presented him with a 39-page report, warning that Western sanctions could set back Russian
the economy
decades ago.
In particular, Gref warned of the possibility of a fall in GDP by 30% within two years and a sharp rise in inflation, as well as a drop in the standard of living of Russians. According to FT sources, Putin interrupted Gref and asked what should be done to avoid worse consequences. However, the leaders of Sberbank and the Central Bank did not dare to clearly state to the president that he should not continue the escalation with Ukraine.
writes the British newspaper.
Further, the publication, according to its "source", claims that these so-called "technocrats" were allegedly informed about the beginning of the SVO "from the TV" and felt "devastated" by the fact that the president did not listen to their words.
I have never seen Gref in such a state. He was completely lost, in a state of absolute shock, - said one of the interlocutors of the newspaper. He described Gref as a "cosmopolitan" who "loved going to forums, conferences, and meetings" and "was very often in Silicon Valley." "He was friends with Jack Ma. And now he's an outcast."
- FT quotes the words of his "source - Gref's former colleague."
Nevertheless, neither Gref nor Nabiulina resigned. On the contrary, according to the FT, they "worked hard so that the Russian economy could survive" after the imposition of harsh Western sanctions. In particular, Gref was on the sanctions lists of almost all Western countries. Nabiulina was not on these lists for some time, but in the fall the United States and Canada included her in their regular sanctions packages.
According to the Financial Times, Russia's GDP in 2022 will decrease by several percentage points, the country is experiencing rising inflation and a decline in real incomes of the world's population. However, "the toughest scenarios mentioned in Gref's presentation report mentioned above" did not materialize in the end.
It is important to bear in mind that in the broader context of Western media publications promoted for various types of audiences, the topic of "possible successors" to Putin at the helm of the Russian state is now being actively discussed. This FT article serves as nothing more than a kind of "promotion" of Gref and Nabiulina, with their persistently repeated characterization as "technocrats", in the role of supposedly those officials with whom the "West can and should deal" in the future.