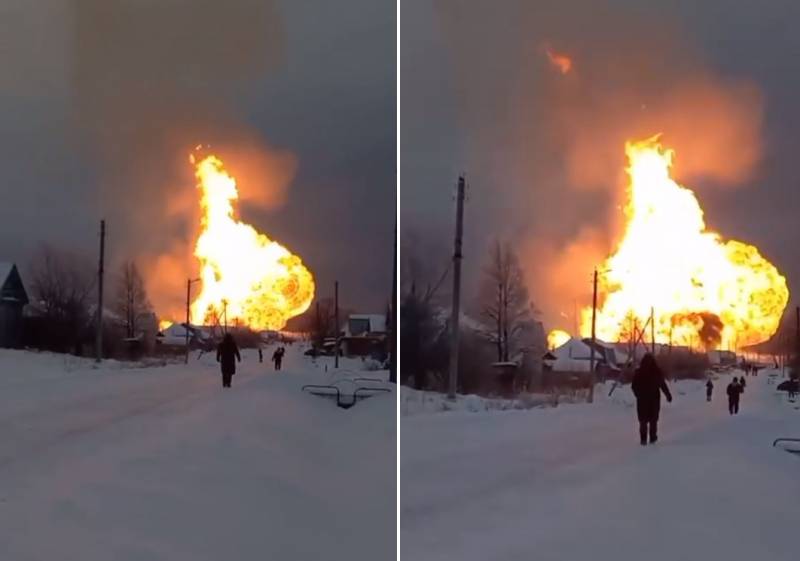 On the section of the gas pipeline between the villages of Kalinino and Kulhiri in Chuvashia, a powerful fire broke out on the main gas pipeline. Fire and smoke can be seen from many surrounding villages in the Vurnar region of the republic.
There is no official information and reasons for the incident yet. According to the latest data, three people died as a result of the fire, and one more is listed as injured. 4 units are already working at the scene of the emergency
equipment
Ministry of Emergency Situations. Perhaps there was a depressurization of the pipeline, since there was no information about a strong explosion.
Exactly one month ago, a similar incident
happened
in the Vsevolozhsk district of the Leningrad region. Then a gas explosion and a strong fire were recorded a few kilometers from St. Petersburg. Fire on an area of ​​3000 square meters. m was extinguished with the help of a fire train and tracked vehicles.
After the accident, the gas supply to private households was limited, and it took several days to connect to backup sources. Severnaya CHPP, which serves the densely populated northern districts of St. Petersburg, also suffered. At the moment, the investigation of the Russian Investigative Committee continues under the article on violation of industrial safety requirements.
By the way, today the State Duma adopted in the second reading a law on punishment in the form of life imprisonment for committing sabotage.