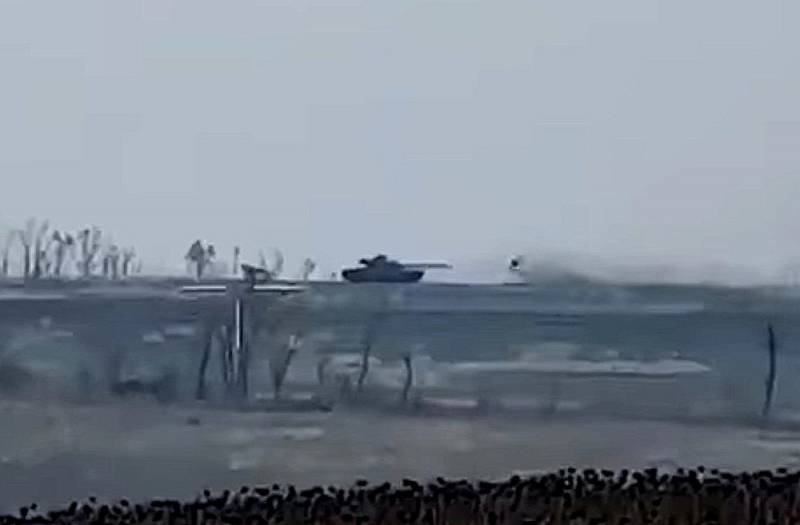 During the Russian special operation on Ukrainian territory, documentary evidence of what is happening periodically appears on the Web. The head of Chechnya, Ramzan Kadyrov, published and commented on his Telegram channel a video of the destruction of a Ukrainian Armed Forces tank near Soledar in the Donbass as a result of a double hit from an ATGM.
The footage shows the results of the combat work of the fighters of the Chechen special forces "Akhmat" and the 2nd army corps of the NM of the LPR. The enemy tank will move across the battlefield. An anti-tank guided missile flies into it, which hits the side projection of the combat vehicle. However, dynamic protection works, and the tank moves on.
Then another ATGM is fired at it, which successfully hits the tank's turret, causing detonation of the ammunition load. The crew tries to escape by leaving it. In this case, the tank after a while turns into a pile of twisted metal.
After several hits, the car fell into disrepair, and the surviving crew members fled into the open field. Now it remains only to guess which of them was less fortunate.
- said the head of Chechnya.
According to Kadyrov, reflected in the next post, the Chechen special forces "Akhmat" are not in vain called one of the most combat-ready units of the Russian forces participating in the NMD. From the very beginning of the special operation, the fighters of the unit made an invaluable contribution to the liberation of the territories of Donbass occupied by the Kyiv regime.