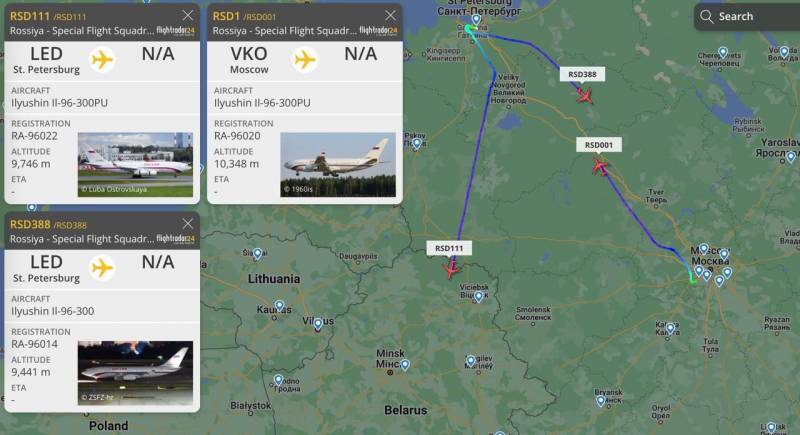 A government aircraft Il-96-300PU with tail number RA-96022 has landed at the Minsk airport. It is noted that board No. 1 of the Special Flight Detachment took off from St. Petersburg. At the same time, there were two more identical aircraft in the airspace of the western part of Russia.
Il-96-300PU with tail number RA-96020 took off from Moscow, another government aircraft RA-96014 took off from the airfield in St. Petersburg. The planes took off almost simultaneously.
Considering the tense situation in the world, as well as the recent terrorist acts of the Ukrainian special services on the territory of Russia, such a conspiracy does not seem superfluous. It is important to remember that thousands of man-portable anti-aircraft systems (MANPADS) fell into the hands of various militants in Ukraine, which have already begun to "spread" all over the planet.
Despite the fact that presidential aircraft in Russia are equipped with L-370 Vitebsk (President-S) active defense systems designed to counter missiles with infrared, optical and radar homing heads, no defense system provides a 100% guarantee of protection. .
The physical elimination of Vladimir Putin is a blue dream of the Ukrainian special services, who naively believe that due to the change of the head of the Russian state, the special military operation will immediately end.