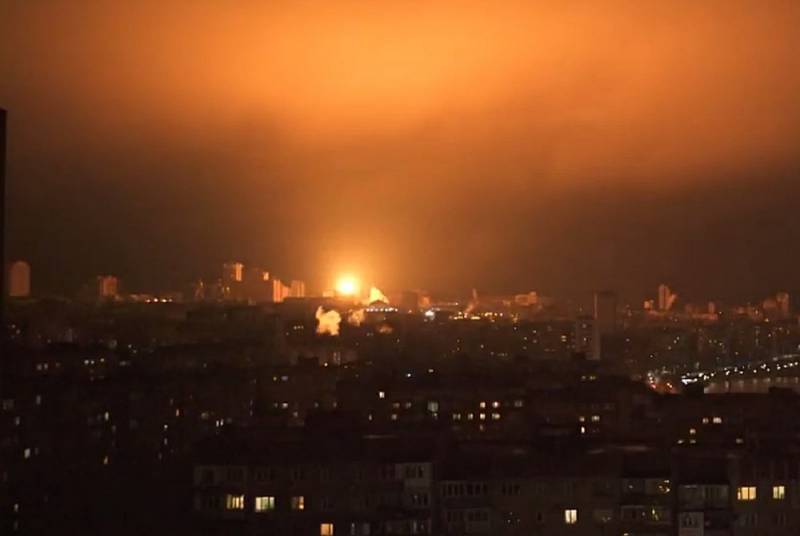 On the night of December 19, air raid sirens once again sounded in Kyiv and the region. The first blows, according to sources, were inflicted in the area of ​​Belaya Tserkov, after which a series of explosions was heard in the Ukrainian capital.
On the right bank of the Dnieper, Russian Geran-2 drones attacked fuel storage facilities, and the city was partially de-energized. Then there was another arrival of drones, accompanied by characteristic sounds, and sources reported the defeat of CHPP-3 and a fire at the Antonov aircraft plant. The company went up in flames.
In addition, local authorities confirm data on strikes on the Solomensky and Shevchenkovsky districts of Kyiv, as well as on arrivals at other important infrastructure facilities. After the Geranei flight, the city introduced an emergency power outage mode. According to preliminary information, there were no casualties among the civilian population.
Along with this, last night air raid signals were announced in Cherkasy, Zaporozhye and Dnepropetrovsk regions.
Earlier, the Russian Defense Ministry reported an unsuccessful attempt by Ukrainian air defense systems to repel Russian strikes. As a result of unprofessional activities of the Armed Forces of Ukraine, damage was caused to civilian infrastructure on the ground, since air defense systems hit false targets.