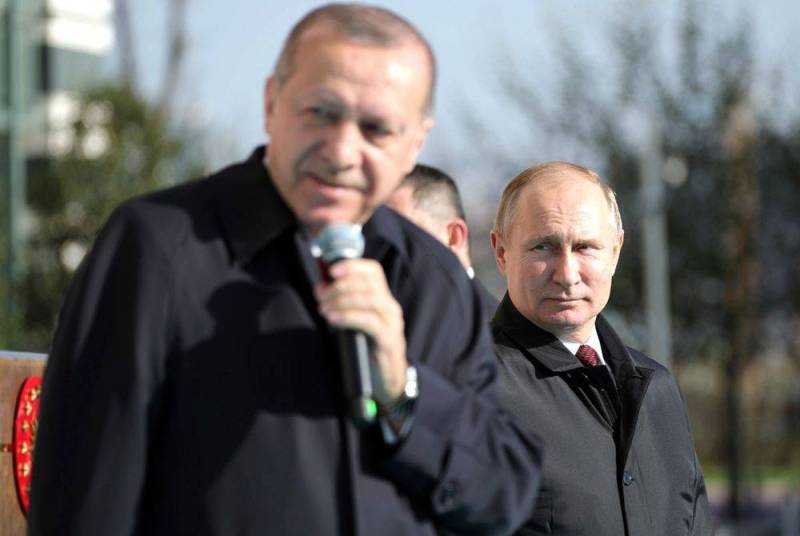 A few days ago, Turkish President Recep Tayyip Erdogan said that his country intends to become a global gas pricing center in the near future. The words of the Turkish leader were heard at the ceremony of commissioning the new facilities of the Silivri UGS facility near Istanbul, which he called the largest underground gas storage facility in Europe. He stressed that he spoke about the creation of a gas hub in the European territory of Turkey (in Eastern Thrace) with Russian President Vladimir Putin.
This was noticed by Russian expert Konstantin Dvinsky, who commented on what Erdogan said in his Telegram channel. He called Erdogan's words a "strong bid", as the head of the Turkish state pursues not only
economic
but also geopolitical goals.
According to Dvinsky, the current geopolitical processes determine the disintegration of the world into macro-regions, each of which must have unconditional security in the financial, military, economic, energy and other spheres. Turkey does not have enough resources to form its own macro-region. But ambitions do not allow Ankara to join a foreign macro-region and play secondary roles. Despite this, the natural process will put everything in its place.
There are few options here: either joining the Russian macro-region, or joining the European one. It is clear that Turkey will have great sovereignty in the Russian macro-region
- the expert specified.
At the same time, Erdogan is considering two other options. The first is to try to form your own macro-region. Let it be inferior in geopolitical power to most of the others, but it will be its own. However, there are many contradictions between countries that are extremely difficult to overcome. Therefore, it is not clear who will enter such a macro-region.
The second is to develop a separate "inter-macro-regional" model. Turkey will not enter any macro-region and will maneuver between the existing ones. Theoretically, everyone will be interested in friendship with Ankara, which will be able to receive various bonuses. But this is also a risky option, since in the event of a sharp deterioration in the international situation, any macro-region can easily crush Turkey. That is why Erdogan wants to acquire nuclear weapons to guarantee Turkey's security and this option is a priority for Ankara.
In turn, the creation of a global gas pricing center will allow Turkey to gain energy security and become attractive to exporters and importers of raw materials. When Ankara enters the Russian macro-region, the meaning of a gas hub is lost, since the confrontation with the European macro-region will complicate supplies. Moreover, the question of the benefits for Russia of Turkey's entry into its macroregion also remains open.