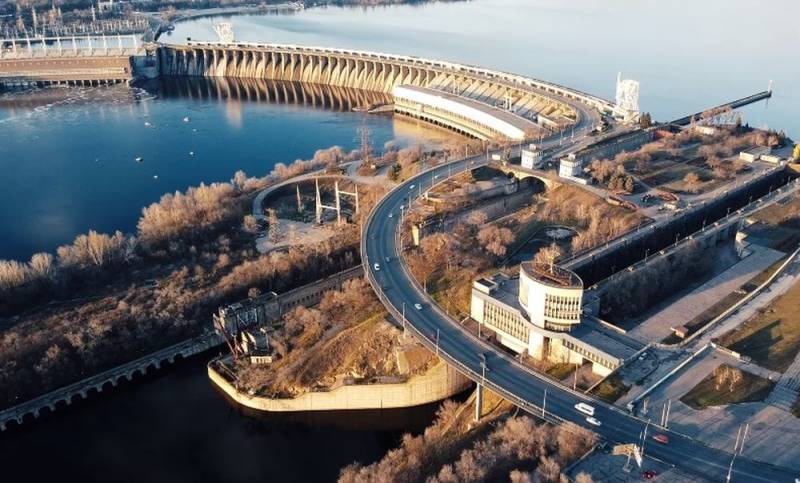 During a Russian special operation on Ukrainian territory, on December 16, the RF Armed Forces launched another powerful missile attack on critical Ukrainian targets. Two days later, it became possible to assess the scale and effectiveness of fire damage to selected targets.
It should be noted that since October 10, the RF Armed Forces have been hitting Ukraine's energy infrastructure facilities. This time, the targets were facilities that provide electricity to the cities: Poltava, Kremenchug, Mirgorod, Kharkov, Dnipro (Dnepropetrovsk) and Zaporozhye.
For example, moments of rocket arrivals along the DneproGES in Zaporozhye were captured on video. The footage showed a hit in the engine room, which led to the decommissioning of part of the hydroelectric power plant. And for a long time, since three missiles flew into this place, which indicates the inability of the Ukrainian air defense system to cover all important objects, or its really poor performance, in contrast to peppy reports, which say that at least 75% of the missiles were destroyed.
As for the Kharkiv and Poltava regions, in this area, strikes were made on CHPP-5, SS 330/110/35 kV Zalyutino and CHPP-2 Eskhar. After that, CHPP-5 in Kharkiv stopped its work, at 330/110/35 kV Zalyutino all autotransformers were destroyed and high-voltage equipment was damaged, and an experimental switchgear (OSG) 2 kV was damaged in CHPP-110. But the power supply was restored the next day.
Thermal power plant-3, which was not hit, generating about 86 MW, could not provide the whole of Kharkiv with electricity. Therefore, the power supply of the city, possibly, was carried out through the outdoor switchgear of Zmievskaya TPP. Probably, it was precisely because of this that the 330/154/35/10 kV Kremenchuk substation and the 330/110/35/10 kV Mirgorod substation were hit, which led to concomitant outages in the Poltava region. However, apparently, the damage was not critical, since the transit of electricity through the 330 kV Poltava substation was resumed by morning.