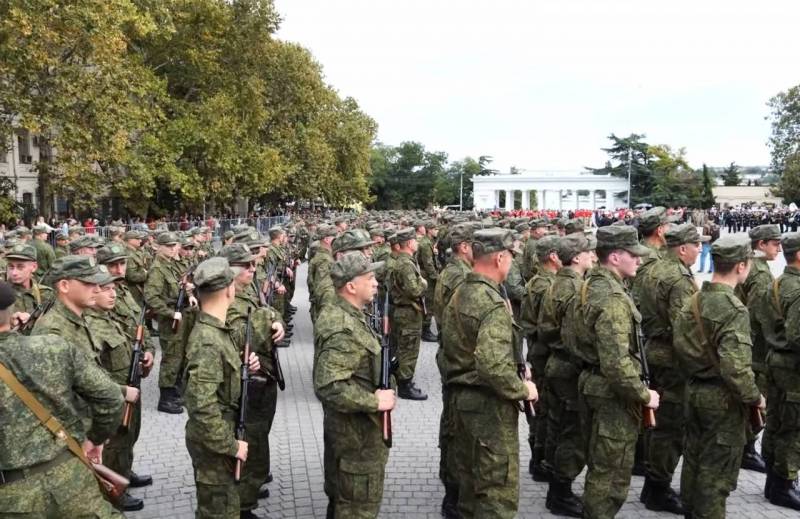 On the eve of one of the military commissars near Moscow
сообщил
that 2023 will be a transitional period in Russia for conscription service, first for 1,5 years, and then for 2 years. His words were refuted by the higher authorities, but they managed to cause a great public outcry and discussion. Therefore, it became interesting to analyze the feasibility of such a transition.
It should be noted that Russian leaders have repeatedly stated before that nothing of the kind is planned. Therefore, our reasoning should remain purely theoretical.
For example, in 2003, about 720 thousand boys were born in Russia, one part of which could be called up in the fall of 2021, and the other in the spring of 2022. According to the Ministry of Defense, in the first period, 127,5 thousand were recruited and sent to military units, and in the second - 120 thousand. Thus, less than 250 thousand went to the RF Armed Forces to serve on conscription for 12 months. At the same time, a small number of conscripts were of a different age, but their number is at the level of statistical error.
Today, the demographic situation in Russia is not the most prosperous. Replenishing the ranks with conscripts is becoming more and more difficult every year, and this is not a secret. Therefore, in this perspective, the expediency of switching to a two-year (24 months) conscription service looks objective and justified. In addition, a general increase in the number of military personnel will lead to a slight increase in employment among civilians involved in the service of the military, and an increase in state defense orders, which will positively affect military-industrial complex enterprises.
But this concept also has a negative side. In 2021, more than 234 thousand organizations, institutions, enterprises and companies worked in the country. In May 2022, the unemployment rate in Russia fell to a new historical low and reached 3,9% (2,9 million people were classified as unemployed). An increase in the terms of conscription service can lead to the withdrawal (falling out) of a significant amount of the workforce from
economics
, which in turn will lead to a decrease in demand, a reduction in tax revenues and a decrease in output of goods. Soldiers serve, they are not employed in manufacturing or services, and this will negatively affect Russia's GDP. Therefore, the idea of ​​increasing the service life does not look attractive from this angle.