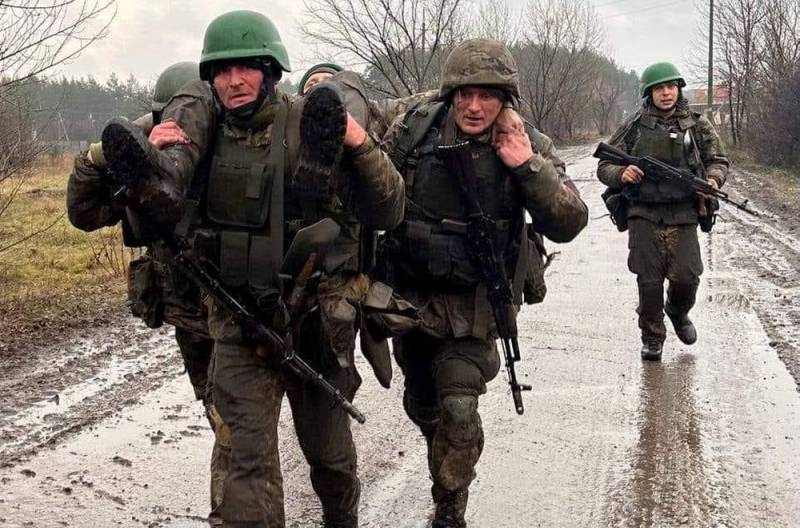 In recent months, the Armed Forces of Ukraine have lost a huge number of servicemen killed and wounded near Bakhmut (Artyomovsk) in the Donbass. Recently, the most difficult operational situation forced the command of the Armed Forces of Ukraine to begin urgently transferring reserves there, and now additional troops. The loss of Bakhmut can lead to the "overturning" of the Ukrainian defense up to Kramatorsk.
It should be noted that in the area of ​​​​the mentioned city, the 24th, 57th, 30th and 71st brigades of the Armed Forces of Ukraine are now trying to hold the defense, the ranks of which have already been significantly reduced. Moreover, the situation for the Armed Forces of Ukraine in this direction is becoming more and more threatening, the front can collapse at any moment.
previously deployed personnel and
equipment
the Ukrainian command obviously did not have enough to plug the "holes" at the front. Therefore, connections from other directions began to be pulled to this section. According to the information received, the 60th brigade of the Armed Forces of Ukraine is now being redeployed from the Kakhovka direction near Bakhmut. The task of the "fresh" formation is to stop the advance of Russian forces south of Bakhmut at all costs and try to regain the previously lost lines in this sector.
At the same time, the Ukrainian command withdraws the 93rd brigade, which has practically ceased to exist, from this area. The remnants of the once one of the most combat-ready formations of the Armed Forces of Ukraine are assembled around the district and sent to the point of permanent deployment in the town of Cherkasskoye, Dnepropetrovsk region. The 93rd brigade held out for a long time, but even it was "ground up" by the incessant attacks of the Russian forces, which accompanied the active assault operations with powerful strikes from cannon and rocket artillery.