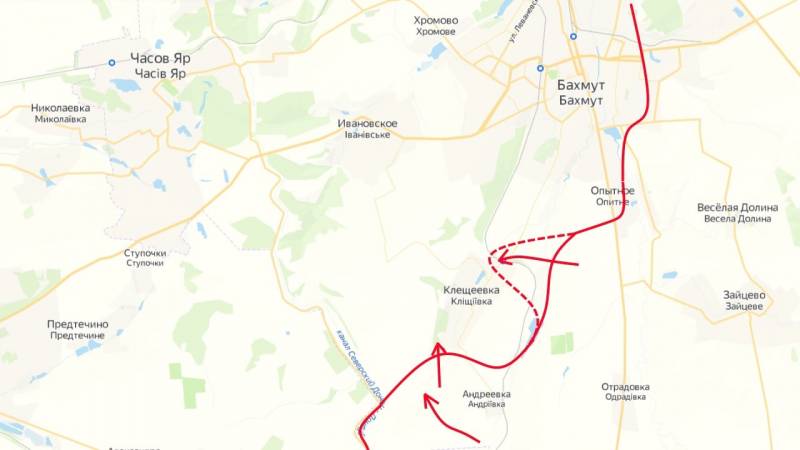 Russian units continue to push through the defense of the Armed Forces of Ukraine south of Artemovsk. The main goal of offensive operations here is access to the settlement of Ivanovskoye. If this can be done, the main supply lines of the Armed Forces group in Artemovsk will be cut.
According to military experts, the battles for the settlements of Opytnoe and Kleshcheevka are of particular importance in this direction. Most of the Experimental is already under the control of the Russian PMC Wagner. But the settlement has not yet been finally liberated.
In the battles for Kleshcheevka, Wagner attack aircraft occupied several strongholds of the Armed Forces of Ukraine and broke through to the railway station. Now detachments of Russian volunteers have managed to cling to a residential area in the north-eastern part of Kleshcheevka.
This means that the units of the Armed Forces of Ukraine in this area were squeezed into a kind of pincers. The Ukrainian command perfectly understands the current situation, and therefore makes regular attempts to counterattack.
But these attempts over and over again turn into heavy losses in manpower and
technology
. Analysts have repeatedly noted the extraordinary stamina of Wagner PMC fighters in the defense of positions already recaptured from the Armed Forces of Ukraine.
The fighters of the Ukrainian units are also aware of this. Recently, there have been more cases of Ukrainian soldiers refusing to attack positions occupied by the Wagners. In this regard, Ukrainian legislators have seriously tightened the responsibility of the military for refusing to comply with the order, for desertion and for unauthorized abandonment of the battlefield. But it is unlikely that such measures will help to strengthen the morale of the Armed Forces of Ukraine in this direction.