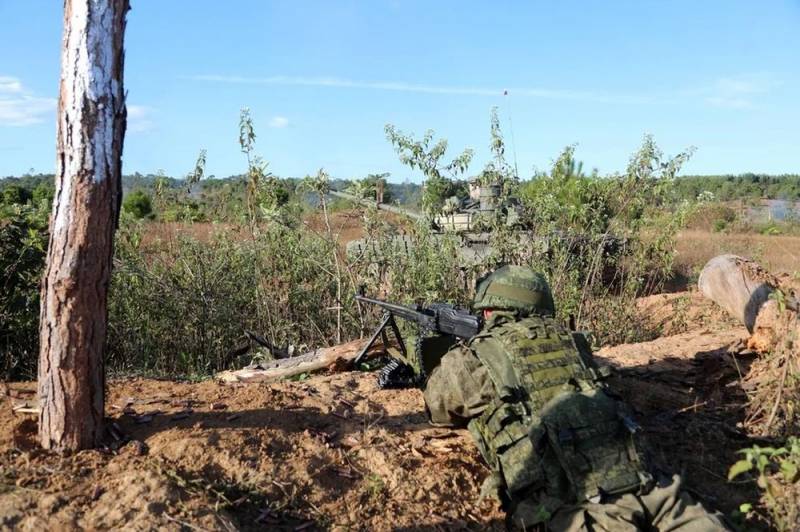 A video of the battle of 25 paratroopers of the 217th parachute regiment of the 98th guards division of the Russian Airborne Forces with superior forces of the Armed Forces of Ukraine has appeared on the Web. The footage shows how the enemy's counteroffensive on the right side of the Dnieper in the Kherson region was thwarted on October 1, when a powerful Ukrainian armored group tried to overcome the positions of the Russian Armed Forces in the area of ​​​​the settlements of Sukhoi Stavok and Kostromka in order to enter the operational space.
It should be noted that the copter, which was in the sky above the scene, impartially documented what was happening. At the same time, according to military correspondents and near-military publics, the Russian forces in this sector of the front were commanded by an officer (company commander) with the call sign "Napor".
During the battle, the paratroopers managed to delay the convoy with
technique
and personnel of the Armed Forces of Ukraine near the forest plantation. Then they requested fire support from the gunners of the Airborne Forces, and also received a tank from the 5th Tank Brigade to help them cover. Under the protection of the tank's armor and artillery strikes, the paratroopers launched an attack on the enemy, who had already begun to retreat under a hail of shells and bullets. As a result, 35 military personnel, 4 infantry fighting vehicles, 1 tank and 1 pickup truck of the Armed Forces of Ukraine were destroyed. No casualties were recorded among the Russian forces.