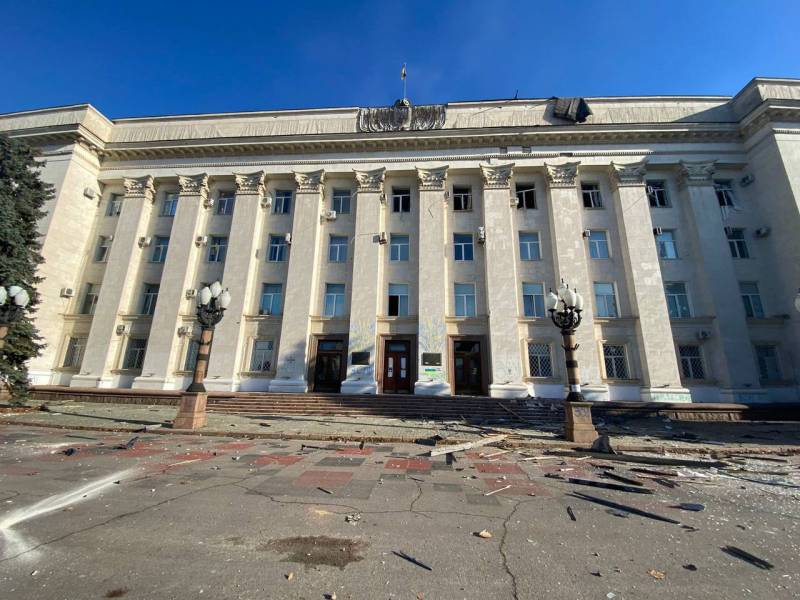 In social networks, a video of the arrival at the building of the Kherson city administration on the right bank of the Dnieper is being distributed. A high-precision strike by the RF Armed Forces damaged two floors of the building. According to preliminary data, no victims.
Almost three months ago, the administration of Kherson was shelled by Ukrainian troops. One of the arrivals of missiles fired by the American MLRS HIMARS occurred during a meeting of heads of administrations. As a result of that strike, civilians were killed.
At this time, the green light was given to marauders in the city. The so-called waiting people paint Z symbols on the houses of citizens evacuated to the left bank of the Dnieper. The houses of the departed former neighbors are looted both by the militants of the Armed Forces of Ukraine and by the remaining residents. In the context of a humanitarian catastrophe in the city, this is almost the last chance to profit from clothes or leftover food. The Ukrainian authorities that "liberated" Kherson are in no hurry to supply the city with water, food and medicine.
In socially significant objects, the Nazis create firing positions. To accommodate personnel and combat
equipment
use the city market, educational institutions and residential areas. The strikes of the Russian Armed Forces on the identified positions of the militants are presented by Ukrainian propaganda as Russian aggression against the civilian population.