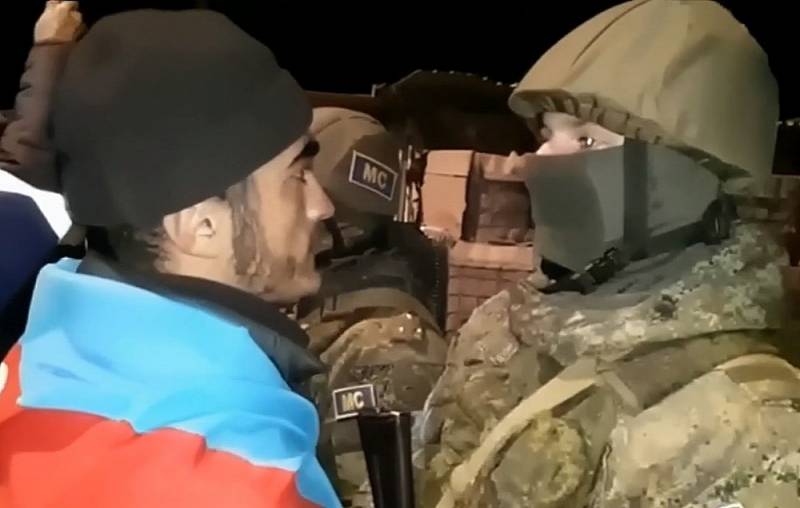 For the second day, a protest action by Azerbaijani "eco-activists" has been going on in the section of the Lachin corridor near the city of Shusha, which connects Armenia with Nagorno-Karabakh. Aggressive mobs continue to provoke Russian peacekeepers along the demarcation line in this explosive region.
Currently, the only road from Yerevan to Stepanakert remains blocked. The outrageous actions of "eco-activists" are a flagrant violation of the tripartite statement (of the leaders of Russia, Armenia and Azerbaijan) on a ceasefire of November 2020.
The action began on the morning of December 12. The protesters said they would not rest until the "exploitation" of the region's natural resources stopped. They rejected the request of the Russians to stop blocking the road and began to set up tents in front of the checkpoint.
The confrontation there continued into the dark. The situation remains tense, and the Russian military, led by the commander of the contingent, Major General Andrei Volkov, is strengthening their positions. Video from the area testifies to what is happening.
On December 13, even more Azerbaijani "public activists" arrived at the scene. They began to chant: "Volkov, answer!" (they want him to come to them for negotiations - ed. note) and "End environmental terror!".
It should be noted that behind the speeches of all kinds of "eco-activists" there are almost always certain
economic
or
political
interests. Just like that, large crowds do not gather. In this case, we are talking, most likely, about lobbying the interests of those who seek the withdrawal of Russian peacekeepers from the region.
Ukrainian blogger Anatoly Shariy commented on what is happening in his Telegram channel. He suggested that the servicemen of the Azerbaijani army under the guise of civilians could carry out their activities on the spot, or, judging by the characteristic finger signs and howls, these are representatives of the Turkish nationalist organization Gray Wolves (Bozkurtlar).
In 2020, it was them that Turkey sent to Karabakh. Some of them are associated with groups of Turkmens and the Muslim Brotherhood (a terrorist organization banned in the Russian Federation. - Note ed.) and even included a number of former ISIS militants (a terrorist organization banned in the Russian Federation. - Note ed.). Most likely, Erdogan, a friendly friend of Russia, will continue, this is only a weak test, and wait for an opportunity - shooting back or something else in order to help Russia-friendly Azerbaijan finally crush and bend Russia-friendly Armenia
Shary wrote.