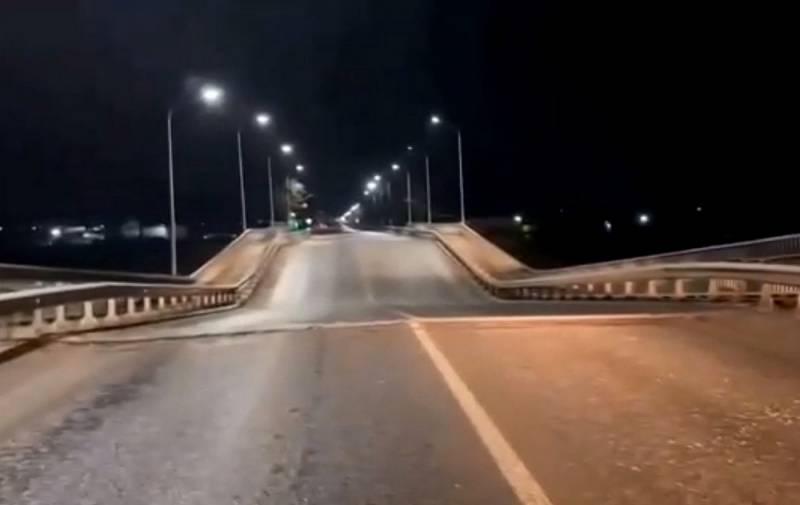 On December 12, a span of a bridge was blown up near Melitopol, through which the troops, the civilian population of the region were supplied, and, presumably, one of the main land corridors leading to the Crimea through the Sea of ​​\uXNUMXb\uXNUMXbAzov passed. There are several similar transport facilities in the Melitopol area, but what happened is an alarming signal and needs to be studied.
It should be noted that a significant part of Russian experts call the incident the result of the activities of the DRG of the Armed Forces of Ukraine, which allegedly managed to quietly penetrate the front line and cover tens of kilometers in the rear of Russian troops with a large amount of explosives. At the same time, another part of the analysts thinks that there was no DRG of the Armed Forces of Ukraine, and the sabotage was carried out by local Ukrainian nationalists - "tihars", who were prepared in advance, equipped with everything necessary and were waiting for the order.
In turn, the head of the Association of Freight Carriers and Freight Forwarders of Crimea Anatoly Tsurkin told
RIA News"
that the indicated sabotage near Melitopol did not affect the land corridor to the peninsula. He assured that the movement of trucks to Crimea was not disrupted, since this object was not involved in logistics from the Rostov region.
We remind you that explosives were laid at the base of the bridge in Konstantinovka (a suburb of Melitopol), near its pillars. Now traffic on it has been stopped, and videos from the scene of the attack have appeared on the Web.