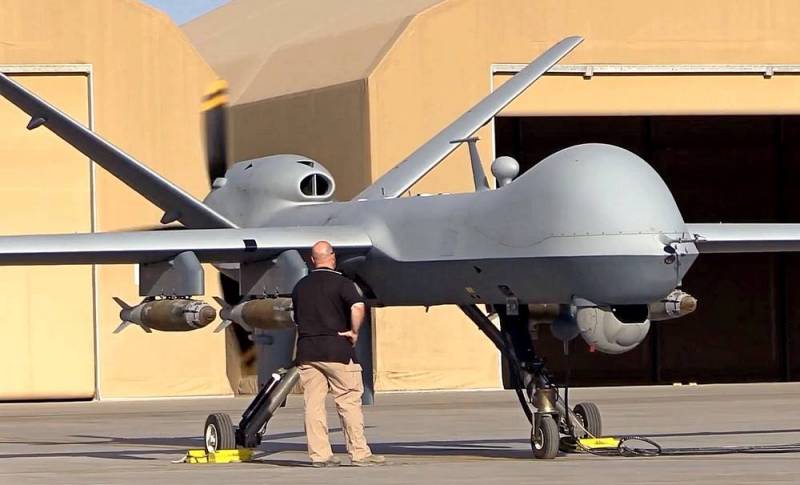 Since the spring of 2022, Ukraine has been asking the United States for modular reconnaissance and strike UAVs MQ-9 Reaper ("Reaper"). However, the Pentagon still did not dare to transfer these drones to Kyiv, as reported by Politico, citing its sources.
The publication notes that the US Department of Defense is really worried about the possible fall into the hands of Russians secret
of technologies
embedded in the indicated UAVs. The drone can be damaged by air defense systems, as well as lose control and fall under the control of the enemy as a result of the work of electronic warfare. In addition, Moscow may react extremely sharply to the very fact of the transfer of such long-range weapons by Washington.
Therefore, there is no agreement among American generals and parliamentarians. With the idea to transfer the MQ-9 Reaper to Ukraine, the US Air Force is "rushing around", since for several years the agency has not known where to "attach" obsolete drones. The US Congress throughout this time categorically refused to "write off as unnecessary" MQ-9 Reaper. But in the budget for fiscal year 2023 (beginning October 1, 2022), lawmakers and the military have provided for the transfer of 100 units of these UAVs to other departments, while purchasing new drones for the US Air Force, summed up in the publication of the American press.
Note that the latest versions of the MQ-9 Reaper can stay in the air for up to 27 hours when fully loaded. These UAVs proved to be excellent in Iraq and Afghanistan, where the enemy had no air defense system in principle. The drone can carry 1700 kg of payload, climb to a height of up to 15,4 km, move to a range of 1900 km and accelerate to 482 km/h. The Reaper can be equipped with a variety of equipment and ammunition needed for a variety of missions.