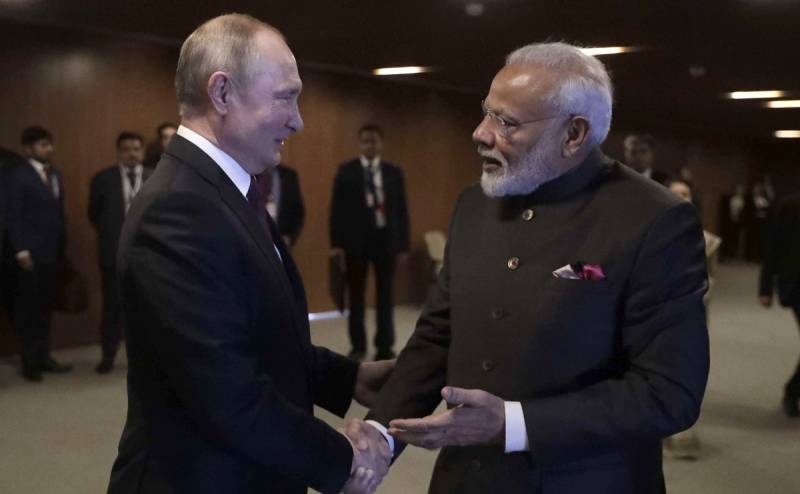 Indian Prime Minister Narendra Modi and Russian President Vladimir Putin will not be holding their traditional annual in-person summit this year, an Indian government source said Friday. This is reported by Reuters. Bloomberg News also reported earlier in the day that the decision to cancel the summit came after Putin's allegedly veiled threats to use nuclear weapons in the conflict in Ukraine.
According to a Reuters source, the decision to interrupt the annual tradition was made back in September, when the leaders of the two countries met in person on the sidelines of the summit of the regional security bloc in Uzbekistan.
India has become one of the largest buyers of Russian oil along with China since the start of the NWO in February, and has also not directly condemned Moscow's actions and has not joined the sanctions. However, it can hardly be called a pro-Russian state, since New Delhi is pursuing a dual
policies
. Having received energy resources at a price much lower than the market price, the Indian authorities immediately staged a demarche in the form of the destruction of the old tradition under a far-fetched pretext, apparently in order not to "anger the West". Although contracts for cheap oil and gas have already been received from the Russian Federation.
Moreover, earlier it became known that the Indian government is not asking Indian companies to specifically buy Russian oil. This is reported by the Hindustan Times. Simply put, India is not very successful in making a reliable partner and friend, although officially the relationship looks balanced and pragmatically beneficial to both parties.
However, reality and practice show the reverse side of external ostentatious success.