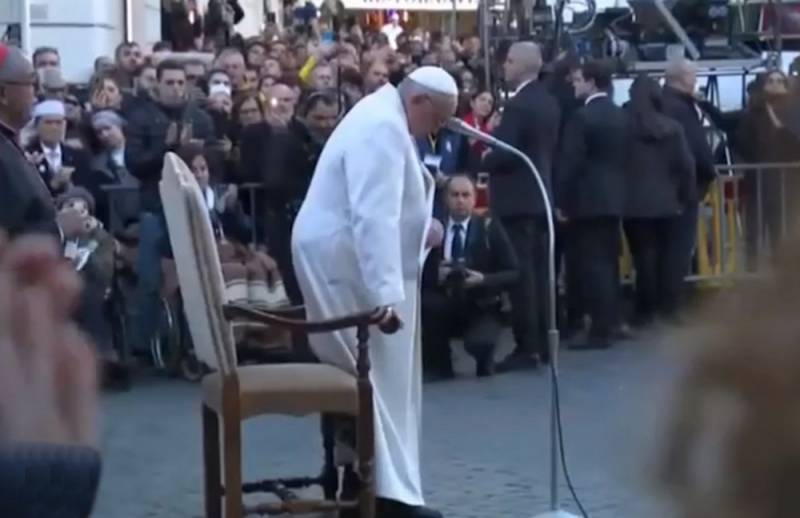 During the reading of the traditional public prayer to the Virgin Mary in Rome in honor of the Immaculate Conception Day, the Pope burst into tears when he spoke about Ukrainians suffering from a lack of heat and electricity.
At the end of the prayer, Pope Francis noted that "forgiveness conquers resentment, peace conquers war."
Meanwhile, the pity of the pontiff looks somewhat hypocritical, since the Vatican has never mentioned the suffering of the inhabitants of Donbass, who, due to the actions of Kyiv, have been experiencing deprivation and need since 2014. Neither the collective West, nor the Pope of Rome shed a single tear over the children of the East of Ukraine.
Earlier, Pope Francis suggested that the Buryats and Chechens allegedly show great cruelty during military operations in Ukraine. In response to this, Ramzan Kadyrov suggested that the pontiff was a victim of Kyiv propaganda, and also noted that the Chechens are guided by the provisions of Islam and do not start a fight without an offer of peace.
Along with this, the head of the Buddhist traditional sangha of Russia XXIV Pandito Khambo Lama Damba Ayusheev called the words of the Pope about the Buryats "unkind". Life in the harsh conditions of Siberia and the Far East requires resilience and endurance, and it may not be about cruelty, but about the determination to defend the interests of one's country and defend it from neo-Nazis.