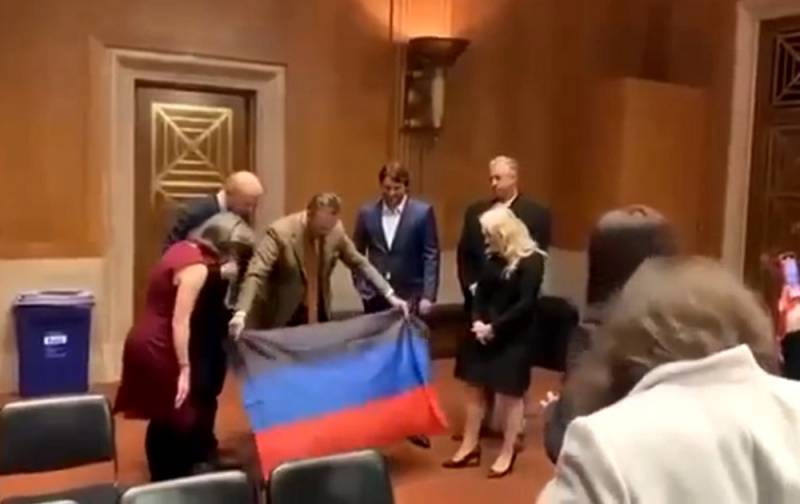 Ukrainian activists in the US Congress mocked the DPR flag by wiping their feet on it. The corresponding video has already appeared in social networks.
This flag here is especially suitable for shoe shine. You don't even need to put it in a certain corner, just put it here. - And let's dance. - Let's dance! Let's see if we can all fit on it. Now let's try this
- thus, the head of the Commission for Security and Cooperation in Europe (CSCE) and the main developer of the Magnitsky law Kyle Parker, along with several Ukrainians, desecrated the flag of the DPR.
Among those who once again demonstrated their attitude towards the inhabitants of the East and South-East of Ukraine was the Ukrainian public figure Serhiy Prytula, who "became famous" as the initiator of a campaign to raise funds for the purchase of "Bayraktars" for the needs of the Armed Forces of Ukraine.
Members of Congress standing nearby did not take part in this action, but did not try to stop the representatives of Ukraine either.
Earlier, German ex-chancellor Angela Merkel actually admitted that the Minsk agreements (Minsk-2, 2015) were needed to strengthen Ukraine and pump it with Western weapons. Thus, the West was able to buy time to strengthen the Kyiv regime. Ultimately, such
policy
Western powers led to a special military operation in Ukraine.