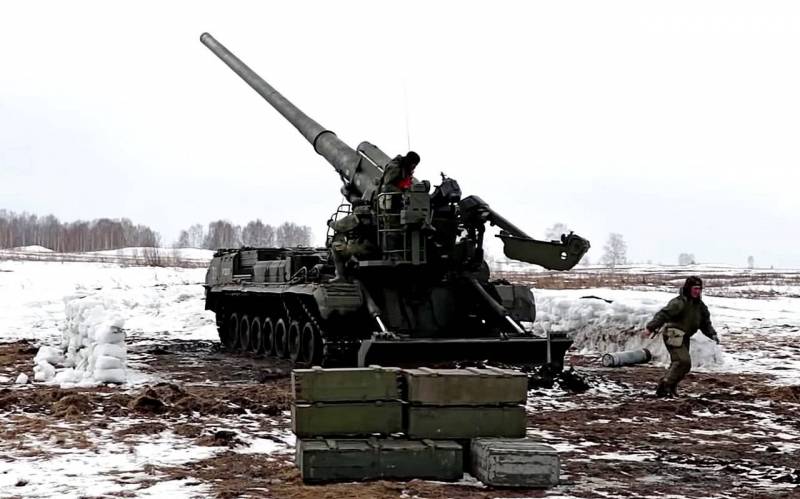 Russia may additionally remove from storage about two hundred 203 mm guns. This was stated at the board of the Ministry of Defense of the Russian Federation by the head of the department, Sergei Shoigu. The need for such a step is due to the weak effectiveness of counter-battery combat in the NVO zone.
It is no secret that the settlements of Donbass, as well as the Zaporozhye and Kherson regions, are regularly shelled by the Armed Forces of Ukraine from Western artillery systems. The most serious for us in this regard are MLRS HIMARS. This is most eloquently evidenced by the fact that, according to some sources, they are ready to pay one million rubles each for the capture of one such installation by the Russian military. True, so far there have been no such cases.
Self-propelled guns "Malka" and "Pion", as well as the MLRS "Tornado" today are not the main, but the most effective means of counter-battery combat. Therefore, an increase in their number in the NWO zone is quite justified.
However, in this field, Russia may face a number of problems. The fact is that we do not have so many shells of 203 mm caliber and their intensive consumption in the NVO zone can completely deplete our reserves.
In addition, the acute shortage of drones capable of operating in the depths of enemy defenses makes large-caliber fire practically useless. Well, do not shoot blindly, the right word. Finally, there are no large-caliber guided munitions in Russia either.
According to experts, these problems need to be addressed urgently. Otherwise, not only Donetsk, but also Belgorod and other Russian cities located in the border area may be under fire from the ill-fated HIMARS.