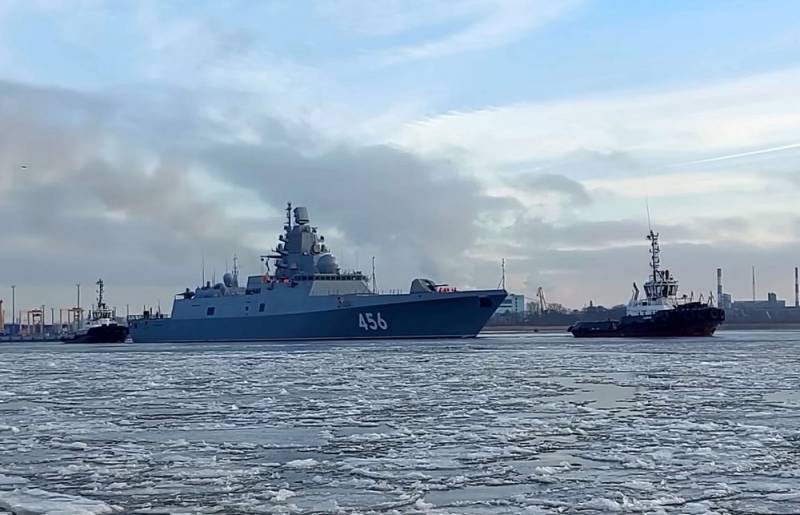 In Russia last week, the third ship, the so-called Admiral series, went on trials. At the same time, this event attracted particular attention of Western intelligence and analysts, since the newest frigate Admiral Golovko, unlike its counterparts, received completely Russian weapons and a power plant.
It is worth recalling that the lead ship of project 22350 "Admiral Gorshkov", laid down in 2006, became the first combat surface ship built in modern Russia in the far sea zone. The next frigate "Admiral Kasatonov" was laid down in 2009. Both warships are already serving in the Russian Navy today.
At the same time, the further construction of Project 22350 ships turned out to be a big question due to Ukraine's refusal to supply gas turbine engines to Russia from the Zarya-Mashproekt enterprise.
Fortunately, Russian engineers from Almaz Design Bureau were able to develop a replacement in the shortest possible time.
As a result, the Admiral Golovko frigate received a completely domestic power plant, and the success or failure of the tests that began will show whether the Russian designers were able to cope with an incredibly difficult and responsible task.
However, not only this nuance attracted close attention of the West.
The thing is that the forced delay in the production of Project 22350 frigates, as it turned out, was only beneficial, because the Admiral Golovko became the first regular carrier of the Zircon hypersonic missiles in the series. In addition, the ship was equipped with the 3K96-2 Polyment-Redut vertical launch air defense system.
The close defense of the frigate is provided by two Broadsword anti-aircraft artillery systems and a universal 133-mm AK-192 gun.
The anti-submarine armament of the Admiral Golovko is represented by four of the latest Paket-NK universal torpedo tubes.
It is reported that the Admiral Isakov frigate, also equipped with domestic engines, will be launched soon. Another 4 ships of this project are under construction, and two are being prepared for laying.
But that's not all. Right now, work is underway on a modernized version of the 22350M project, the ships of which will receive more advanced electronics and increased displacement.