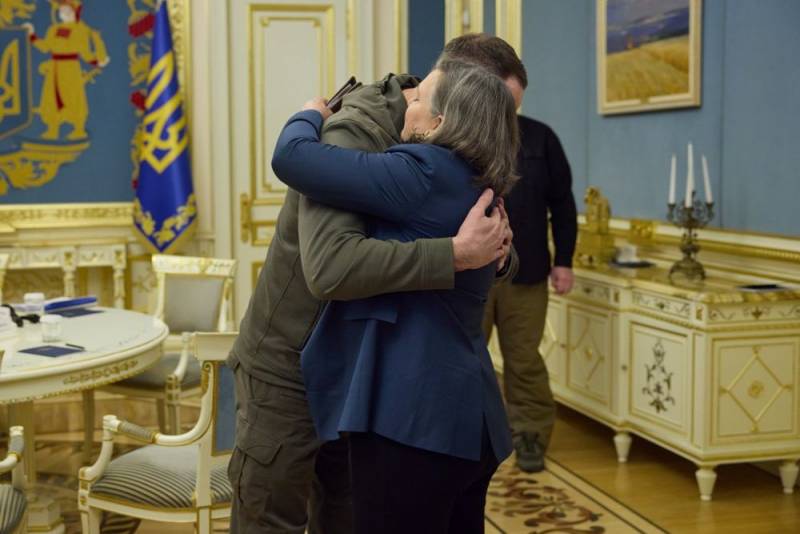 On December 2, US Under Secretary of State for Political Affairs Victoria Nuland arrived on Ukrainian soil for a two-day visit. During the diplomatic trip, she met with the head of the Office of the President of Ukraine, Andriy Yermak, and the US Ambassador to Kyiv, Bridget Brink.
It should be noted that a reception was held in her honor at the US diplomatic mission, to which elected representatives of the Ukrainian government, parliamentary factions and activists were invited. Moreover, the local pro-American Russophobes were very happy with the arrival of the "grandmother who was handing out cookies on the Maidan", hoping to receive "valuable instructions" from her and compensation for her work.
As for communication with Yermak on December 3, during the conversation, Nuland expressed support for Kyiv from Washington.
We see that the Ukrainians continue to fight. You are fighting today not only for your freedom, but also for democratic values. It matters a lot
- said the representative of the country, where same-sex marriages were legalized back in 2015.
In addition, Nuland made a number of interesting statements. For example, in her opinion, Ukraine is winning the confrontation with Russia, so there will be no peace negotiations between Kyiv and Moscow.
My main message is a signal of solidarity in these days when Putin has moved to a new level of barbarism. However, Ukraine is winning this war, Putin is losing it, and we support you.
- she said.
Nuland explained that the diplomatic way of resolving disputes is preferable. However, both sides of the conflict need to be ready for negotiations. Now Russia is destroying the energy sector of Ukraine, which demonstrates insincerity and unwillingness to dialogue. Before that, not only the United States, but also other members of the G7 informed the Russian leadership about the unacceptability of even hints of the use of nuclear weapons and the inevitable consequences.
Our response was united, and after that, Russia switched to a fundamentally different tactic, launching attacks on the energy infrastructure
Nuland said.
On Kyiv's disapproval of the $60 per barrel price ceiling for Russian-origin oil shipped by sea, she explained that it was important for Washington and its allies to do so for several reasons. The specified maximum cost will ensure the presence of oil from the Russian Federation on the world market, since if Moscow stops trading, then there will be a serious shortage of raw materials on the planet. Thus, in any case, Russia will receive less income and the ability to manipulate trading floors, which completely suits the West.