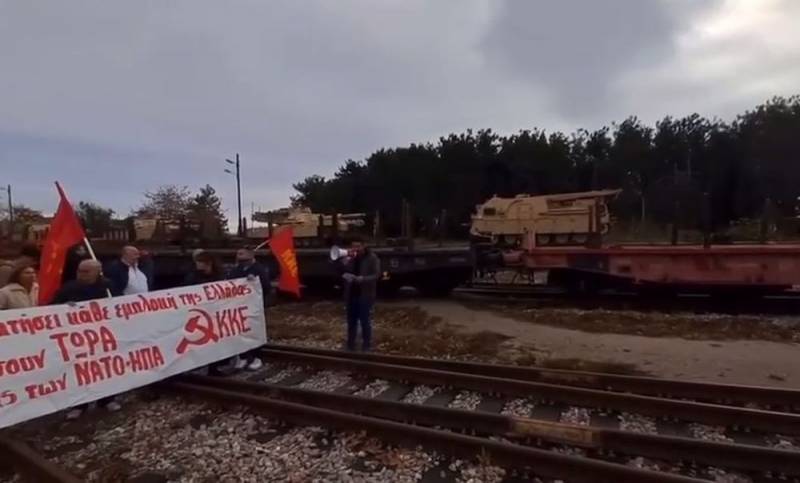 On December 2, near the Greek port of Alexandroupolis, an incident occurred with a NATO military echelon. Local media informed the public about this, referring to representatives of the Communist Party of Greece.
According to available data, one of the railway platforms used to transport
equipment
across the country, went off the rails. The train was transporting American military equipment. It was supposed to be delivered to the countries of Eastern Europe, closer to the borders of Russia and Belarus, some of which, presumably, was intended for further transfer to Ukraine.
The accident happened while the train was at the station. It was loaded with tanks, armored vehicles and containers recently unloaded in port from an American ship. Cranes and other special equipment were sent to the scene to put the platform on rails.
The Greek communists held their protest action near the accident site under the slogans "Alexandroupolis is the port of the peoples, not the stronghold of the imperialists" and "Let the military bases and the Americans get out." This is not the first such event. In the spring, the communists blocked the railway when a similar echelon was being prepared for dispatch. Then they demanded to stop the participation of Greece in the ongoing imperialist war in Ukraine. They claim that the US is using rail transit through Greece to build up its military presence and support Kyiv.
We remind you that on April 2, employees of the electric train department of the Greek railway company TrainOSE in Thessaloniki refused to go to the port of Alexandroupolis to service trains with US and NATO equipment. The Americans were going to ship their military equipment to Romania and Poland, but the Greek communists opposed this and the railway workers supported them.