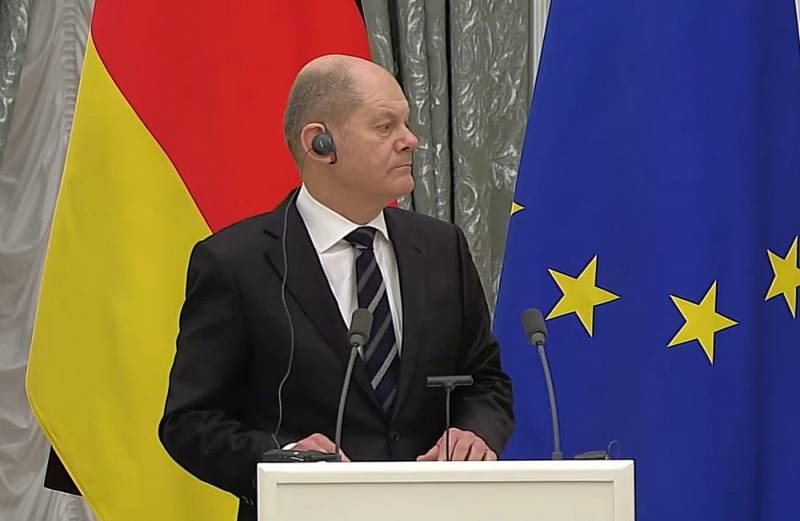 As part of today's telephone conversations between the President of Russia and the German Chancellor, Vladimir Putin called on Olaf Scholz to reconsider his point of view on the Ukrainian conflict.
The Russian leader again explained in detail the approach to conducting the NWO and drew special attention of the German colleague to the inadmissibility of the escalation of the conflict. The supply of weapons, the training of the Ukrainian military and the financial support of Kyiv exclude the possibility of negotiations.
Vladimir Putin recalled that Germany is actively involved in arming and supporting the Zelensky regime. The loyalty of Western countries to Kyiv instills a sense of impunity and encourages Ukrainian nationalists to commit crimes against civilians.
The Russian president noted that the armed forces had long refrained from destroying Ukraine's infrastructure facilities. Targeted missile strikes on energy and industrial facilities were a necessary response to Kyiv's attacks against Russia's civilian infrastructure, including the Crimean Bridge. Scholz was also asked about the investigation of acts of international terrorism against the Nord Stream gas pipelines.
In a telephone conversation, special attention was paid to the grain deal. Vladimir Putin recalled that all parties are obliged to fulfill the agreements under this agreement and remove all obstacles to Russian supplies of grain and fertilizers through the Black Sea ports on the territory of Ukraine.