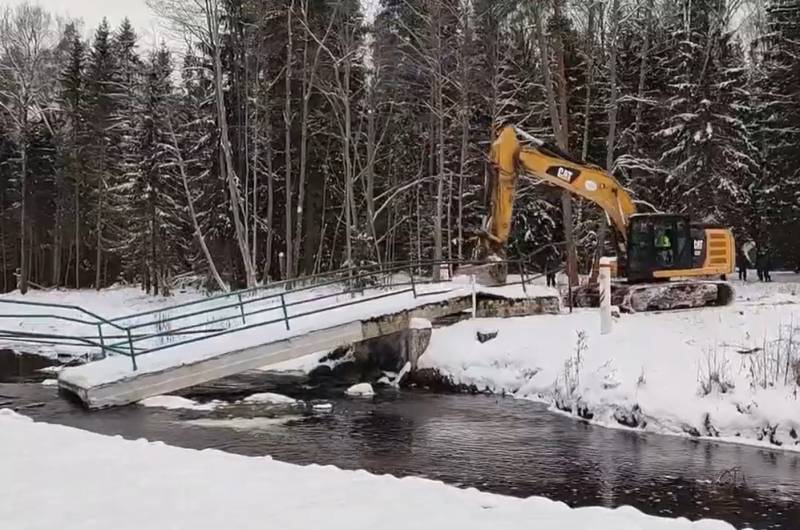 The Latvian side is destroying bridges on the borders with Russia and Belarus. So, a video of the demolition of a pedestrian bridge on the Latvian-Belarusian border on the Friendship Mound across the Sinyukha River got into social networks.
The excavator was unable to lift the structure on the cables, so they had to make a hole in the bridge, hook on it and pull the structure ashore. Later, the bridge began to be destroyed into small fragments.
The Daugavpils Department of the State Border Guard of the Ministry of Internal Affairs of Latvia warned the Belarusian border guards about the demolition of the bridge in advance. The explanation was the need to carry out work on engineering and technical facilities.
The Mound of Friendship was filled in 1959 with earth from the graves of partisans who died in these places during the Great Patriotic War. Every year in July, a meeting of war veterans and patriotic youth takes place here.
I don't know how to humanly express what just happened. How can you hate our history, our grandfathers so much?! There was a partisan village here, there was a partisan movement. And this mound was filled with those partisans who fought. And the earth was taken from the graves of the partisans
- said the correspondent of the newspaper "Dvinskaya Pravda" Larisa Zaitseva.
Meanwhile, as Denis Glebko, a representative of the Polotsk border detachment, noted, the Latvian road workers dismantled the bridge without the consent of the Belarusian side. Thus, Riga violated the agreement of 2010, which defines the junction of three states: Russia, Belarus and Latvia. The bridge was an important part of the demarcation agreement.