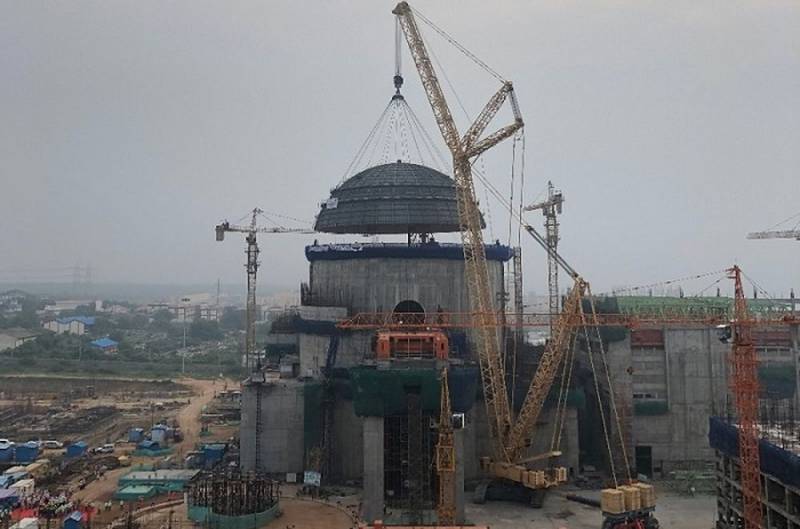 On December 1, Russian President Vladimir Putin congratulated Rosatom, its employees and veterans on the 15th anniversary of the state corporation, noting its huge contribution to the country's defense capability. On the same day, CEO Alexei Likhachev (in office since October 2016), told the TV channel
"Russia 24"
that the Russian nuclear giant is still standing firmly on its feet and looking confidently into the future.
According to the top manager, Russian nuclear scientists are currently negotiating with about 20 potential foreign customers for the construction of new nuclear power plants. For example, regular projects are being discussed with Egypt, Bangladesh and India, which already have some positive experience of cooperation with Moscow in this area.
We are constantly negotiating new sites with China. Our Turkish partners say that they have already looked for a new site for us to start construction
- added the functionary.
We remind you that
Egypt
El-Dabaa NPP is being built for 4 power units with VVER-1200 reactors, in Bangladesh - Rooppur NPP for 2 power units with VVER-1200 reactors, and in India - Kudankulam NPP for 6 power units with VVER-1000 reactors, moreover No. 1 and No. 2 have already been put into operation. Note that the total portfolio of foreign projects of Rosatom as of January 2022 amounted to 35 power units. This spring, the Finnish design company Fennovoima terminated the contract with Rosatom for the construction of the Hanhikivi-1 NPP (1 power unit with a VVER-1200 reactor) in Finland, reducing the total number of power units in the order portfolio to 34 units.