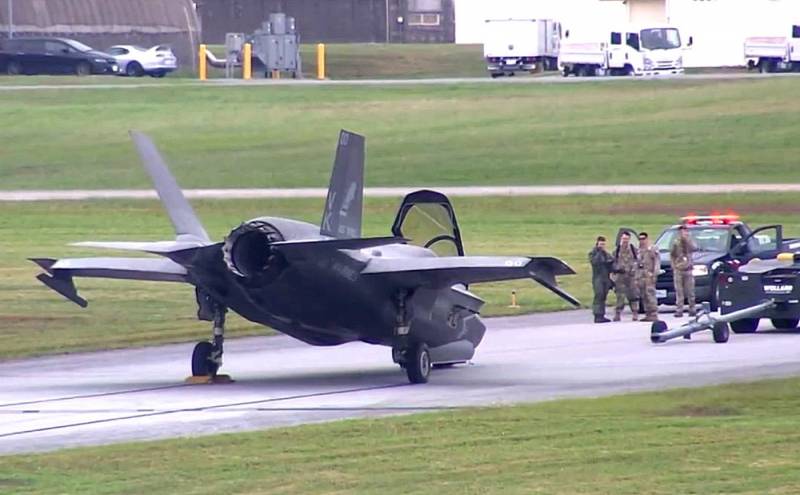 The Japanese television channel NHK published a video showing the embarrassment of the American Lockheed Martin F-35 fighter. The incident took place at Kadena Air Base on the Japanese island of Okinawa. The 1st Air Wing of the US Marine Corps is based here.
The published footage clearly shows that the aircraft had a nose strut and it got stuck on the taxiway of the airfield. What exactly caused the breakdown is still unknown.
We add that the American aircraft Lockheed Martin F-35 is a member of the family of stealth multifunctional fighter-bombers of the fifth generation. This machine has a short takeoff and vertical landing.
The basis of the fighter's weapons are air-to-air missiles, as well as cruise missiles and guided bombs. In addition, this machine is capable of carrying anti-tank missiles on its board.
At the same time, since its birth, this aircraft has received the most controversial assessments. Despite this, the car has already entered service with eight countries of the world. And in the near future, the F-35 can replenish the fleet of six more states.
As military experts emphasize, only four vehicles were lost during operation. This figure brings the F-35 closer to civil aviation safety standards.
However, it is not yet known whether the Okinawa incident will be included in the list of losses. The final conclusions about the causes of the incident should be made by experts.