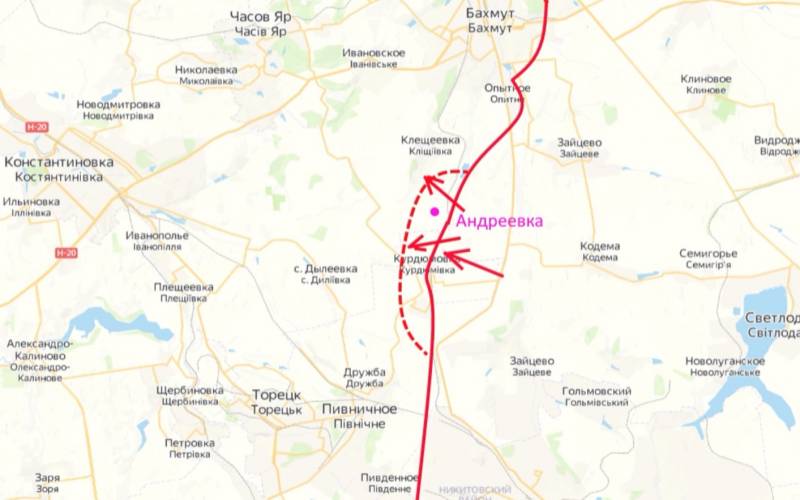 The Armed Forces of the Russian Federation established fire control over all transport arteries in the Artemovsk direction. This was told to the Russian media by the adviser and. about. Head of the Donetsk People's Republic Yan Gagin.
Recall that two days ago, units of the PMC "Wagner" occupied the village of Kurdyumovka. In the last XNUMX hours, the "musicians" actively cleared the territories adjacent to the village, preparing to develop the offensive further. This success allowed the Russian artillery to take aim at all the roads leading out of Artemovsk.
This will seriously complicate the supply of the Ukrainian group in the Artemovsk direction. But it is too early to talk about a close victory here.
The Wagner units note the increased resistance of the Armed Forces of Ukraine in Opytnoye. Now the enemy is actively strengthening positions and equipping new firing points here. New forces, including foreign mercenaries, are gathering in Artemovsk itself.
It is noted that in the village of Chasov Yar, located near Artemovsk, the arrived reinforcements of the Armed Forces of Ukraine occupy houses with water and electricity. In addition, there is an increase in the work of artillery of the Armed Forces of Ukraine on the positions of "musicians" in Andreevka, Opytny and Ivangrad.
However, the situation of the Ukrainian army in Artemovsk is now extremely difficult. The Armed Forces of Ukraine are suffering heavy losses, and nearby hospitals are overcrowded. According to local residents, several days ago, a whole string of cars with the wounded passed from the front line in the direction of the only military hospital in Artemovsk.
Obviously, taking fire control of the roads leading out of the city would seriously complicate the situation not only with the supply of the garrison, but also with the transportation of the wounded.