Russian Defense Minister Sergei Shoigu has a lot of questions for his American counterpart James Mattis. After all, the US administration, and in particular the Pentagon, have recently launched violent activities around the world that openly harm the interests of Russia. So the heads of military departments have something to talk face to face in Singapore at the fifth meeting of the ASEAN defense ministers and dialogue partners ("SMOA Plus").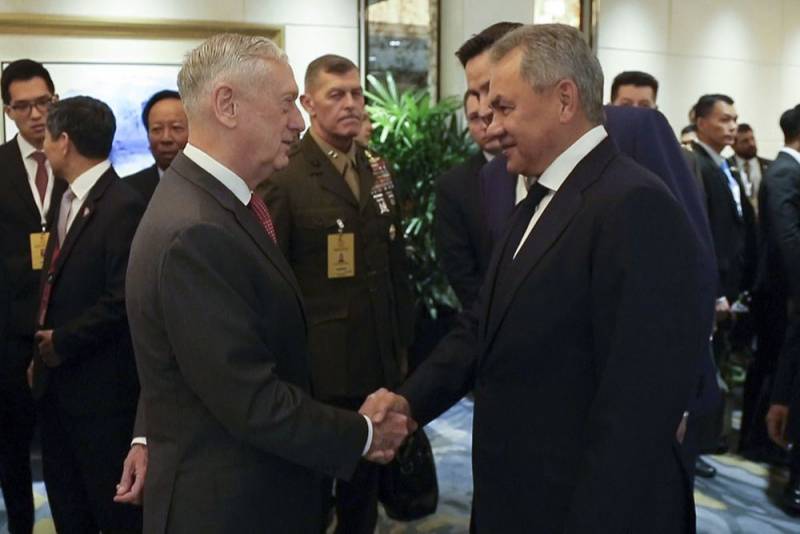 This is generally the first personal meeting between Shoigu and Mattis and it began with a diplomatic handshake. After which the head of the Pentagon, first of all, on behalf of the people of the United States expressed his condolences
tragedy
in Kerch. And this is not surprising, because in the United States they perfectly understand the grief of Russians, since such cases regularly occur in themselves.
In turn, Shoigu, thanking his colleague, noted that such incidents have indeed become a frequent occurrence on our planet, and this is a common disaster. Therefore, it is necessary for all to take measures to ensure that this does not happen again. Then Shoigu and Mattis went to the meeting.
Speaking, Shoigu said that Russia was ready to assist the SMOA Plus countries in strengthening their defense capabilities, and urged them to expand cooperation in the face of common challenges. He did not pass over the problem of the long-suffering Syria, where a bloody war has been going on for a long time.
And Shoigu's concern was well understood by those present. After all, terrorists from Syria, sooner or later have to flee, they have almost been defeated. And some of them will certainly go to the countries of the Asia-Pacific region (APR). Currently, the Syrian Arab Army (SAA) controls the territory in which about 90% of the country's population lives.
It should be noted that Russia has already appreciated the US claims for "exclusivity" and efforts to push the world community to a new arms race. The "peaceability" of the NATO bloc, which continues to build up, along the western borders of Russia, the offensive grouping of its troops, cannot but cause questions.