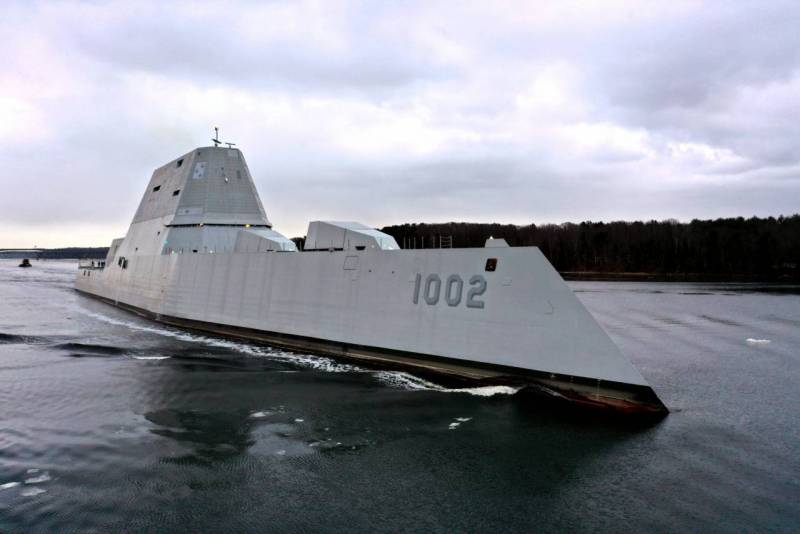 The only operational Zamwalt-class destroyer has completed its first operational deployment with the US Navy's Pacific Fleet. This is reported by Military Watch Magazine. It is specified that the deployment was completed three months after the ship left the home port.
Note that this destroyer is one of three ships of its class built under a special program. It provided for the construction of 32 Zamvolt-class destroyers, but due to the high cost, the project had to be reduced to three units. The cost of one such ship cost the US treasury $ 9 billion. Although it was initially assumed that the project would cost several times cheaper.
There is another reason why the Americans had to limit themselves to the release of only three destroyers of the Zamvolt class. The fact is that when designing the ship, serious problems arose with its design. Because of this, the main weapon of the destroyer - 155-millimeter guns - had to be removed. And the number of universal vertical launch cells should be reduced to only eighty.
In addition, problems with propulsion systems and sensors put the project behind schedule by six years.
The future of this program looks rather vague. As Military Watch Magazine informs, very bold proposals are now being made in the United States about the need to equip the three destroyers built with hypersonic conventional intercontinental-range ballistic missiles. According to military experts, such modernization will allow the use of these weapons around the world without escalating a nuclear conflict.
According to Military Watch Magazine, if the Americans manage to implement this idea, each of the three Zamvolt-class ships will be able to carry 12 intercontinental ballistic missiles on board.