Recently, the operational situation in Bakhmut (Artemovsk) and its environs has become much more complicated for the Ukrainian troops. Losses have grown tenfold, the Armed Forces of Ukraine lose hundreds of their fighters there every day.
It should be noted that over the past decade, the daily losses of the Armed Forces of Ukraine on this sector of the front have grown from 10 killed and wounded to 100 or more "two hundredths" and "three hundredths". For example, since November 20, due to the difficulties in evacuating the wounded, which arose due to bad weather and problems at the LBS, heavy losses in personnel (up to 500 servicemen) were suffered by the 30th mechanized and 71st "ruthless" Jaeger brigades of the Armed Forces of Ukraine near Kleshcheevka located south of Bakhmut.
There, despite the slush (poorly passable mud), the Wagner PMC is advancing, albeit slowly but surely pushing through the Ukrainian borders. At the same time, the defending formations of the Armed Forces of Ukraine are forced to use MT-LB S medical armored personnel carriers and British AT105 Saxon armored vehicles to transport weapons and ammunition due to significant losses.
equipment
. Ordinary medical vehicles cannot overcome the mud to take out the wounded. In addition, the use of this unarmored transport in the zone of active databases is extremely risky. This explains the sharp increase in mortality among the Ukrainian military, who do not have time to provide medical care.
The morgues of the city of Konstantinovka, located 30 km southwest of Bakhmut, are overflowing with dead soldiers who died from blood poisoning and all kinds of inflammations, without waiting for evacuation in mud-filled trenches. This situation will last as long as there is a positive temperature in this area and precipitation falls.
In turn, the Russian expert Yuri Podolyaka drew attention to the actions of Wagner PMC in this direction. According to him, the enemy on a wide front was thrown back several kilometers deep into the territory. Russian forces occupied the settlements of Zelenopolye, Ozaryanovka, Kurdyumovka, Andreevka. According to him, success is associated with good interaction between infantry, armored vehicles, artillery and aviation. Moreover, Russian forces began advancing in the northern part of Bakhmut in order to cut off the Ukrainian Armed Forces from the road to Slavyansk and block it from that side.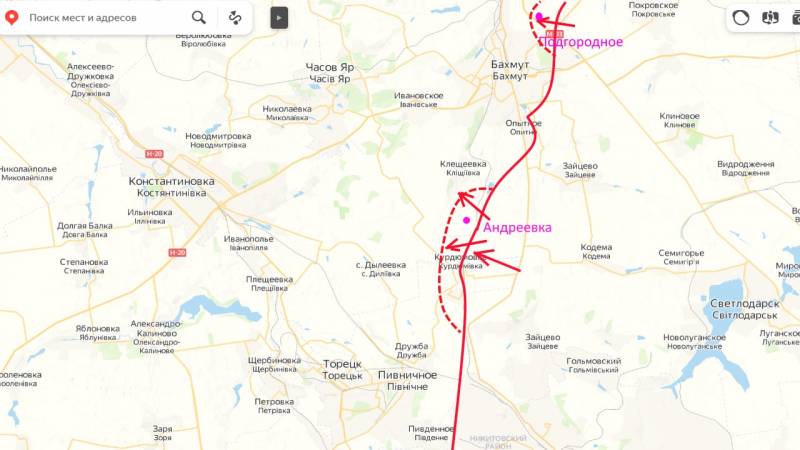 APU blood from the nose should catch on to Kleshcheevka and prevent our success from developing. If we can quickly knock him out of this n. etc., then the entire southern front of the defense of Artemovsk can quickly crumble. But in any case, it will be difficult for the enemy, since the artillery of the Armed Forces of Ukraine is already forced to move to the West, which complicates the already difficult situation for the enemy at the front. Plus, it is necessary to make up for losses in drugs, which also had difficulties
Podolyaka summed up.