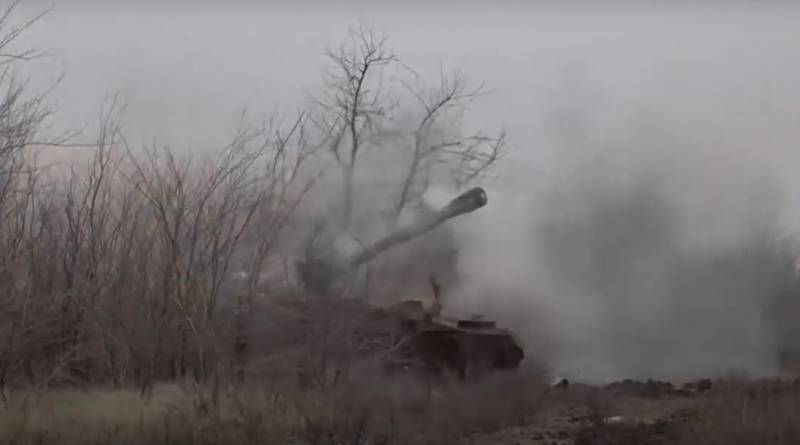 The Russian Armed Forces delivered a strike with high-precision weapons on a military cluster
equipment
and manpower of the enemy in the area of ​​the station Moiseevka, Dnepropetrovsk region. According to the Russian Ministry of Defense on November 28, as a result of the coordinated actions of the allied forces, about 100 Ukronazis were destroyed.
Along with this, damage was inflicted on the 17th tank brigade of the Armed Forces of Ukraine - missiles hit eight armored vehicles and five military vehicles.
Russian units also repelled the attacks of Ukrainian troops in the Kupyansk direction, where the forces of two company tactical groups of the Armed Forces of Ukraine in the Kuzemovka area in the LPR tried to break through the defenses of the RF Armed Forces. Precise strikes against the targets of the formation of Ukrainian militants were pushed back to their original positions in the village of Berestovoe, Kharkov region. At the same time, about fifty Ukrainian soldiers were destroyed, one tank, two infantry fighting vehicles and a pickup truck were hit.
In addition, Russian air defense systems worked productively against Ukrainian drones, destroying seven drones in the Zhytlovka region in the LPR, in Soledar and Volnovakha in the DPR, as well as in Skadovsk and Chaplinka in the Kherson region. Near Novaya Kakhovka, Kherson region, two American-made high-speed anti-radar missiles HARM were intercepted.
According to Russian military correspondents, units of the Wagner PMC occupied the village of Zelenopolye north of Kurdyumovka, Donetsk region. Fierce battles continue near Artemovsk, during which the Wagnerites and the NM of the LPR successfully break through the defenses of the Armed Forces of Ukraine south of the city. According to eyewitnesses, the situation for the Ukrainians is very difficult - there is practically no assistance to the wounded. There are simply no qualified military doctors at the positions, and evacuation assistance is often simply not provided in a timely manner.
The daily losses of the Ukrainian side near Artemovsk increased to hundreds of servicemen. This forces the militants to use MT-LB S medical armored personnel carriers and British AT105 Saxon armored vehicles to transport mortars and shells.