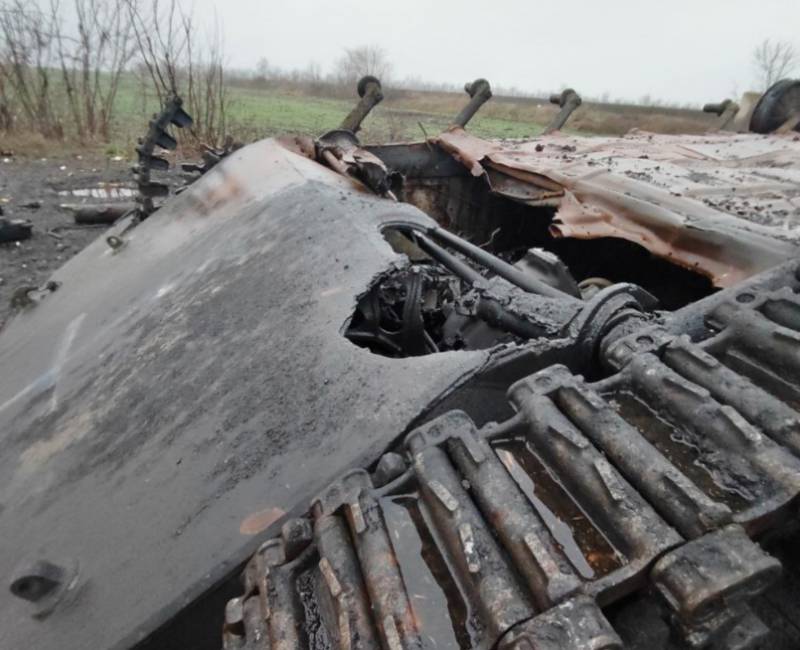 The front is moving most actively today in the Artemovsk direction. While the forward detachments were already taking the third settlement south of the city, to the north near Yakovlevka and Bakhmutsky, the enemy attempted a counterattack. The Ukrainian artillery units were stopped and dispersed by Russian artillery fire, losing up to 80 people, as well as a tank, three armored vehicles and two pickup trucks.
The Russian Aerospace Forces, as expected, continued to strike with precision weapons. At the Moiseevka station in the Dnepropetrovsk region, armored vehicles were destroyed during their loading onto the train. Together with
technique
liquidated more than 100 militants of the Armed Forces of Ukraine. The missile attack resulted in the destruction of at least 6 tanks and 9 other tracked and wheeled armored fighting vehicles. The railway infrastructure of the enemy was damaged.
Over 50 soldiers were destroyed in the Kupyansk direction, where an attempt was made to attack Russian positions by two tactical groups. Two counterattacks near the settlements of Neskuchnoe and Oktyabr in the South-Donetsk direction led to the loss of another 50 Ukrainian servicemen, as well as two armored vehicles and one infantry fighting vehicle.
Artillery, operational-tactical aviation and missile troops attacked eight enemy command posts in the DPR, Kharkiv and Kherson regions. Over the past 7 hours, air defense forces have eliminated XNUMX enemy UAVs. It was possible to destroy two ammunition depots of the Armed Forces of Ukraine near the settlements of Terny and Kurdyumovka in the DPR.
In the Krasno-Limansky direction, the preparations for the attack of two tactical groups of the Armed Forces of Ukraine were suppressed by artillery. Near the village of Chervonaya Dibrova, enemy units were dispersed, the losses amounted to more than 30 personnel, two armored vehicles and three pickup trucks.
The data was provided by the Ministry of Defense of the Russian Federation during the daily briefing by the official representative Igor Konashenkov.