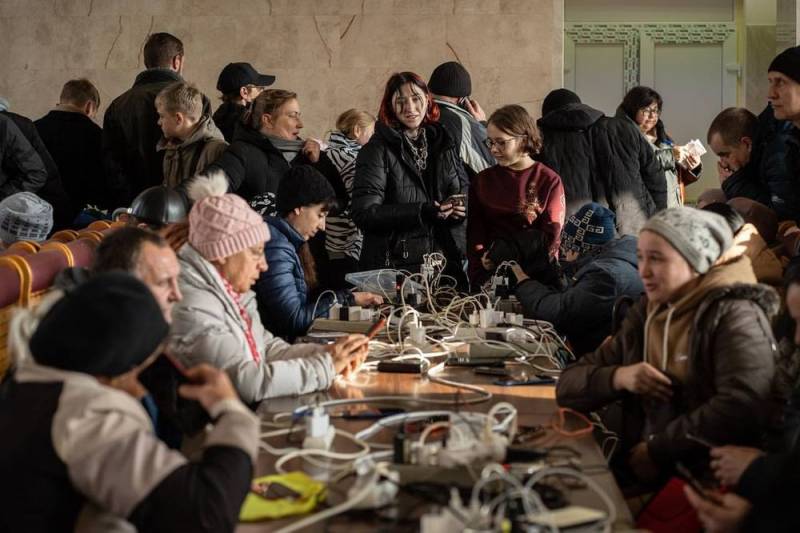 After
new
missile attack of the RF Armed Forces on November 23 on power generation facilities, substations and power lines, about 50% of the Ukrainian energy system was disabled. Despite emergency repair work in Ukraine, the consequences have not been completely eliminated and will be felt for a long time to come. Russian expert Yuri Podolyaka drew his attention to this, assessing what is happening in his Telegram channel.
On November 26, he noted that the Ukrenergo company itself confirmed the unreality of an early restoration of the country's energy system. The new reality is that a third of the Ukrainian energy system can no longer be revived due to circumstances.
In its message, Ukrenergo finally abandoned the "victorious tone" and switched to the tone of excuses. They say that even before the impact on 23.11.22/30/XNUMX, the energy sector of Ukraine did not operate at full capacity, and therefore the minus XNUMX% that is now and which is guaranteed to remain at least for the weekend, this, according to Ukrenergo, is not so bad and even almost "win"
- said the expert.
Podolyaka explained that "minus 30%" is a new "norm" with which Ukrainians now need to learn how to live on. He clarified that this situation will last until the next massive missile strike of the RF Armed Forces, when this "norm" can be further reduced.
The expert also noted that the day before, and obviously not by chance, the largest metallurgical plant in Ukraine, Kryvorizhstal, stopped its production. Probably, "until better times", which may not come.
We remind you that large-scale missile attacks on the energy infrastructure of Ukraine began on October 10. During this period of time, the Ukrainian energy system has not been able to recover. Russia launched the SVO in Ukraine on February 24, and according to the assurances of the Russian leadership, the special operation will not stop until the comprehensive fulfillment of all the tasks assigned to the troops.