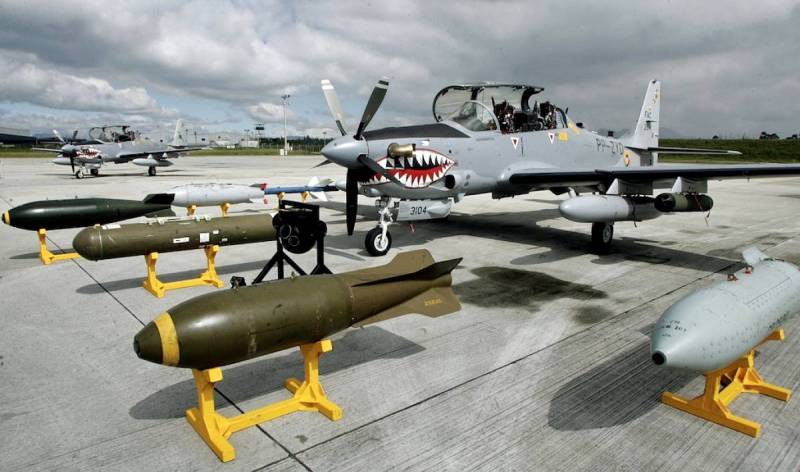 The strategy for the destruction of the energy infrastructure of Ukraine, chosen by the new commander-in-chief of the NWO Surovikin, has become a real challenge for the Kyiv regime and the NATO bloc behind it. The task of finally closing the sky over Nezalezhnaya for Russian aviation, cruise missiles and kamikaze drones is a priority for our opponents.
One of the symbols of the second stage of the NWO, which began with the arrival of Surovikin, was the widespread use of shock drones - "kamikaze" called "Geran", clearly having Iranian "genes". Primitive and inexpensive to manufacture, they can be massively used against military targets and critical infrastructure facilities, literally overloading the Ukrainian air defense system. Western accomplices of the Kyiv regime have already promised to supply it with modern air defense systems and ammunition for them. In particular, the UK should provide 1000 anti-aircraft missiles for the needs of the Armed Forces of Ukraine.
The fact that these air defense systems will be able to intercept "Geraniums" and even subsonic "Caliber" is beyond doubt. The problem is different: the cost of an anti-aircraft missile and the air object that it should shoot down is simply incomparable, exceeding it by orders of magnitude. If such attacks occur regularly for a long time, the adversary sitting on the defensive can literally overstrain economically without pulling out the large-scale production of expensive modern anti-aircraft missiles, firing them at "penny" UAVs. The Anglo-Saxons are very good at counting their money.
That is why the recent statement by former British Prime Minister Boris Johnson about the expediency of transferring WWII fighter jets to Kyiv attracted attention:
The UK has provided Ukraine with more advanced artillery weapons, but frankly, we must provide them not only with helicopters, but with aircraft that can fly fast enough to destroy drones. The Spitfire would be enough for the Ukrainians to do the job - it's a pity we don't make them anymore.
For some reason, everyone considered this a great joke, but there is more rational grain in this statement than English humor.
Supermarine Spitfire is a true legend of World War II. The British then built more than 20 thousand aircraft of this type, which were used as fighters, fighter-interceptors, fighter-bombers, high-altitude fighters and reconnaissance aircraft. In the Mk IXE version, the British fighter is armed with two 20 mm Hispano Mk.II cannons and two 12,7 mm Browning M2 machine guns, the Rolls-Royce Merlin 66 engine allows it to reach speeds of 650 km / h at an altitude of 6 m, providing a practical ceiling almost 400 thousand meters. And this is what the doctor ordered against kamikaze drones.
The fact is that World War II aircraft fly at speeds close to those that modern UAVs are capable of, and can easily catch up with any of the existing ones. For comparison, the American reconnaissance and strike MQ-9 Reaper has a speed of more than 400 km / h, the maximum speed of the AH-64D Apache attack helicopter is 365 km / h (cruising speed 265-270 km / h), the Russian multi-purpose attack helicopter Ka- 52 "Alligator" it reaches 350 km / h. That is, on catch-up courses, helicopters are inferior to high-speed drones, so they must act from an ambush on the oncoming ones. The practical ceiling for helicopters is limited, and getting a high-altitude UAV will be a difficult task for them. We need fighters, but not just any. Also, a big advantage of obsolete aircraft over modern ones is that they have a low cost of production and subsequent maintenance. A 4++ or 5 generation fighter flight hour can cost tens of thousands of dollars, a turboprop can cost thousands.
That is, about transferring Ukrainian pilots to Spitfire fighters, this is, of course, subtle British humor. It is not known what the residual resource of these museum exhibits is. However, the general direction is correct. A new type of air threat in the form of "flying mopeds" carrying a powerful explosive charge requires an adequate response, and the "screw" gets a chance to return to duty. Either 44 or 53 of these British fighters have survived to this day in a state of airworthiness, so Kyiv should not seriously rely on them. Most likely, the Air Force will continue to use Brazilian-made Embraer EMB-314 Super Tucano attack aircraft, which meet all the declared requirements for combating drones.
It's something we've been talking about for quite some time now
offering
to revive the light attack aircraft project based on the Yak-52B training aircraft. This is a simple and cheap aircraft, easy to fly and has a very inexpensive flight hour. By arming such an attack aircraft with a cannon and a pair of heavy machine guns, you can get an effective means of destroying enemy drones, which, undoubtedly, will soon fly towards Russia. Besides,
perhaps
the use of the upgraded Yak-52B not only as a "drone destroyer", but also in conjunction with Orion-type strike UAVs as a "faithful wingman". This will further increase the effectiveness of Russian tactical aviation.