After a massive attack by Ukrainian drones on the base of the Black Sea Fleet in Sevastopol on October 29, Russia has significantly strengthened the defense of its main naval harbors on the Black Sea. This was shown by new satellite images published on the website of a Western military analyst known under the pseudonym H.I. Sutton.
According to him, Ukrainian kamikaze drones still pose a significant threat, and Russia is forced to take it seriously in order to maintain the ability of its fleet to dominate the Black Sea.
Sevastopol is now protected by two tiers of floating booms at the harbor entrance. Booms have also recently been installed around the main berths of warships, as well as across Yuzhnaya Bay, where there are berths for submarines. At the rear of the harbor, where the refueling berths are located, the ships are protected by more floating booms.
Sutton notes.
He also explains that some of these barriers (mainly to protect the environment, mainly to contain floating oil) were installed long before that. However, the operating procedures for their use have changed and they are now used on a regular basis.
In the water area at the entrance from the sea to the naval base in Novorossiysk, booms were installed approximately from 11 to 15 November. This comes just after Ukrainian officials revealed the range of their maritime drones (USVs), which they say is 430 nautical miles (800 km).
These parameters mean that Novorossiysk is within their reach
the analyst points out.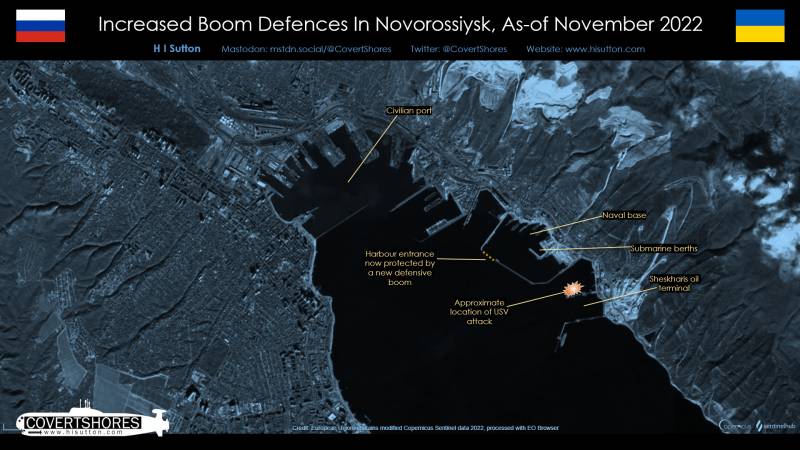 According to his description, the booms in Novorossiysk are almost the same in functionality as in Sevastopol. On the night of November 16-17, a single Ukrainian USV attacked an oil terminal adjacent to the naval base (this information was later denied). HI Sutton states that it is precisely because of the new barrier network that the Ukrainians chose to attack not the base itself, but the oil infrastructure, which is also a strategic target, "and it is much more difficult to protect it with booms."
Although it was rather a variant of Ukrainian "reconnaissance in force" designed to test the strength of the new strengthening of Russian naval defense. Moreover, on November 22, this was followed by an air attack of several drones on Sevastopol, which was also of little success in terms of strike actions.