Today, November 24, the State Duma of the Russian Federation in the final third reading adopted a law banning LGBT propaganda, pedophilia and gender reassignment. Also, the upper house of the Russian parliament made changes to the Code of Administrative Offenses of Russia, which prescribed liability for violations of the provisions of the above-mentioned legislative act.
Now the documents must be submitted for approval by the Federation Council of the Russian Federation and, in case of a positive result, to be signed by Russian President Vladimir Putin.
According to the regulations, for violations of LGBT propaganda, individuals can be fined 50000-400000 rubles, officials - 100000-800000 rubles, and legal entities - up to 5000000 rubles or suspension of activities for up to 90 days.
For violation of the ban on propaganda of pedophilia, the fines are even greater: for individuals - 200000 - 800000 rubles, for officials - up to 2000000 rubles, for legal entities - up to 10000000 rubles. Foreigners and stateless persons for such violations will be expelled from the Russian Federation.
In Washington, they immediately reacted to what happened. The head of the US State Department, Anthony Blinken, demanded from Moscow on his Twitter account (a social network banned in the Russian Federation) to immediately cancel the above-mentioned changes in Russian legislation.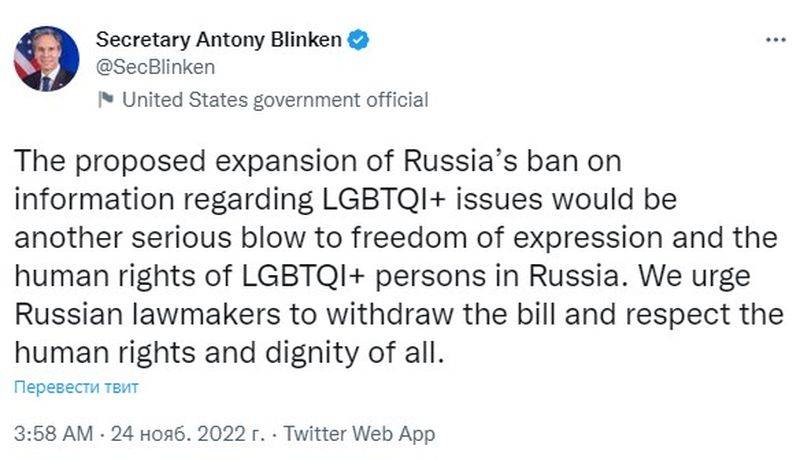 The proposed expansion of the Russian ban on information on issues (Lesbian, gay, bisexual, transgender, queer and intersex+) would be another major blow to freedom of expression and rights in Russia. We call on Russian legislators to withdraw the bill and respect the human rights and dignity of all
- wrote Blinken, interfering in the internal affairs of another state.
After that, users advised the US Secretary of State to start creating social lifts for the Indians, as well as to stop the total persecution of white heterosexual men in the US and pay attention to the creation of armed LGBT "police" in the country.