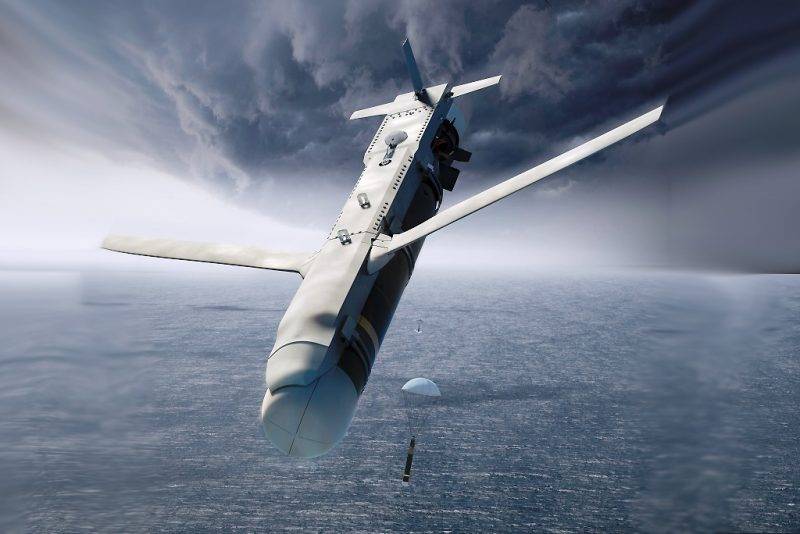 Boeing announced that it is finalizing a new system for the P-8A Poseidon HAAWC (High Altitude Anti-Submarine Warfare Weapon Capability) maritime patrol aircraft in accordance with the requirements of the US Department of Defense.
This system allows Mk-54 torpedoes to be dropped from the cruising altitude of a Boeing P-8A Poseidon aircraft. The main component of HAAWC is the ALA air launch device, which is integrated with the torpedo. It is equipped with a pair of retractable wings, thanks to which the torpedo descends smoothly from a height of 10 meters.
The flight of a winged torpedo is corrected via GPS, and in the absence of coverage, using inertial navigation. Upon reaching the target area, the ALA separates from the torpedo, which parachutes into the water and attacks the target. Previously, Boeing developed a similar system for JDAM bombs, which allows attacking a target from a P-80 aircraft at a distance of up to 65 km. The range of the HAAWC system with the Mk-54 torpedo is expected to be comparable.
The total amount of the contract with the US Department of Defense for the implementation of HAAWC is more than 121 billion dollars. The Pentagon assesses this project as effective for use in a possible conflict with China in the Pacific. The ability to launch torpedoes from a height of 10 meters will allow attacking submarines from above the range of most of China's naval air defenses.