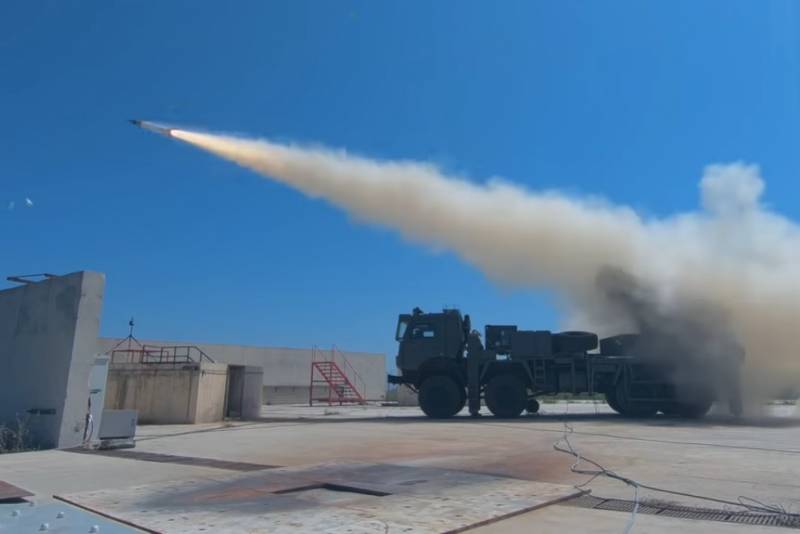 Ukrainian Internet resources have distributed a video of the use of the Turkish TRLG-230 MLRS, the possible delivery of which to the country was recently reported by the Oryx news agency. Thus, suspicions about a new transfer of Turkish weapons to Kyiv are confirmed.
Judging by the footage presented, the Armed Forces of Ukraine used TRLG-230 multiple launch rocket systems in combat operations immediately after they were delivered. The Turkish launcher in the Ukrainian version is integrated with the Russian KamAZ four-axle chassis. The exact number of such complexes sent to Kyiv is still unknown.
The launchers of the Turkish complex are loaded with six 230 mm caliber rockets in two versions - with a satellite or laser guidance system. The firing range of the TLRG-230 is up to 70 km. Which of the variants of missiles delivered to Ukraine is still unknown.
The package of military assistance to Kyiv, announced by Oryx, includes, in addition to the MLRS, electronic warfare systems and Sungur guided anti-aircraft missiles for the Bayraktar UAV. By the way, Turkish drones can work as target designators for the TLRG-230, which increases the accuracy of strikes. To this end, it is planned to transfer 19 more Bayraktar TB2 UAVs to the Armed Forces of Ukraine in the near future.
Thus, the head of Turkey, Erdogan, continues to derive maximum benefit from the Ukrainian conflict. In addition to receiving additional
economic
arrived, Turkish weapons manufacturers have the opportunity to test their latest developments in real combat conditions. But even before the deliveries, experts noted the vulnerability of missiles to Russian air defense systems due to the use of GPS navigation systems on TLRG-230 missiles.