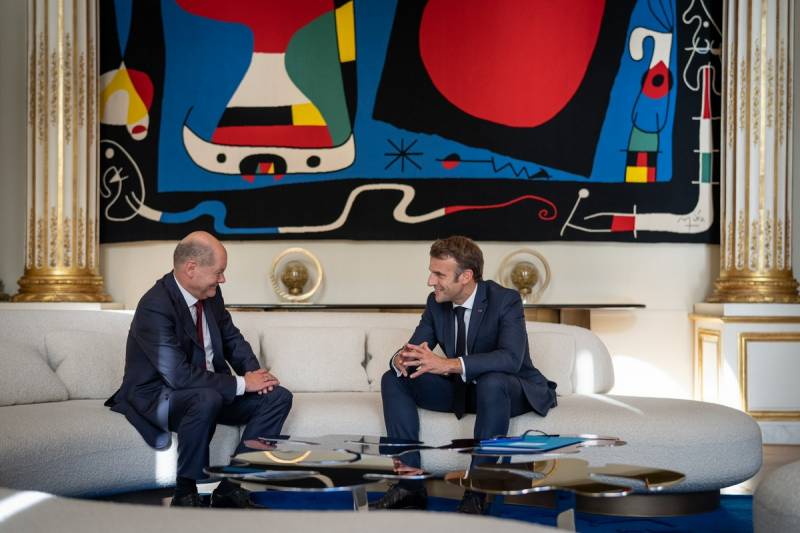 German Chancellor Olaf Scholz is constantly reminded of his failure during a visit to China. This unpleasant topic even surfaced during a telephone conversation between the head of Germany and his US colleague Joe Biden. According to Bloomberg columnist Lionel Laurent, French President Emmanuel Macron will correct and eliminate all failures and miscalculations on behalf of Europe in the foreign policy arena during his visit to Washington.
It is hoped that Emmanuel Macron's upcoming visit to the US will have a more positive aura than anything Scholz has done recently.
Laurent writes.
However, diplomatic subtleties cannot hide the gulf between the US establishment's views of China as its main competitor and Berlin's interests in maintaining trade relations at the highest level. This is one of several cracks and rifts in the US-EU relationship that Old World leaders are trying to put behind us with the era of ex-President Donald Trump.
The White House no longer sees Europe as an "enemy" that enjoys free security services from America, profits from unprecedented exports at an undervalued euro, and trusts Russia with energy supplies. The two allies are on the same geopolitical page as Germany is now willing to spend more on defense and less on Russian gas, Laurent said.
There is growing resentment in Europe over the growing economic disparity with the United States. Here is a chance for Macron, who himself disagrees with Scholz on several issues, to urgently seize the opportunity to improve transatlantic ties. In addition, the head of France can somehow influence the American law on subsidies, which discriminates against the EU. This will immediately elevate Paris over Berlin within the eurozone.
Of course, one visit will not be a panacea, but the goal is to demonstrate to the US why France and Europe should be seen as partners and not a proving ground for profit.
- writes the browser.
The Macron administration must ease the Franco-German stalemate and ease the pain of the energy crisis. The goal of "resetting" relations with the US will only help this. It would also be good to resolve the Ukrainian crisis and reach an understanding with Russia. This would elevate Paris into the framework of a global peacemaker and reconciliator of Europe, Laurent concluded.