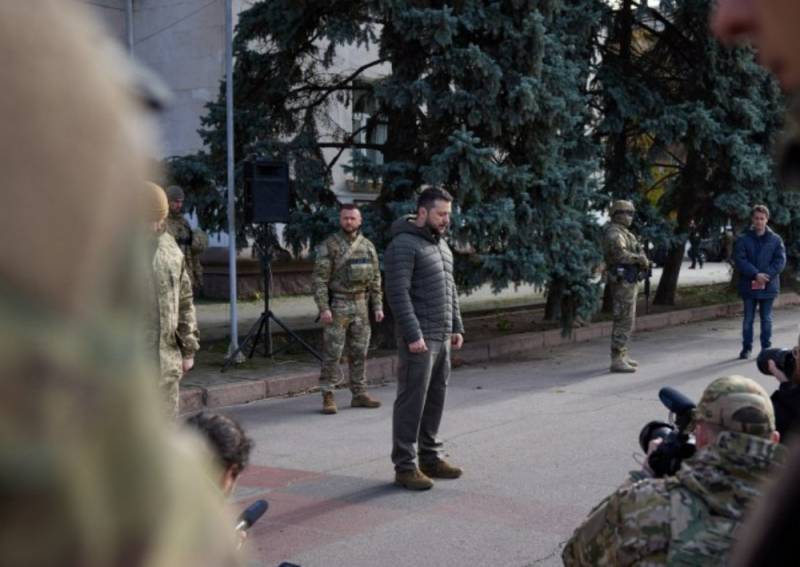 Any cornered creature, if not becoming dangerous, then at least trying to survive at any cost. In this position, there is no time for sentimentality, looking back or saving face. The position of the still head of Ukraine, Volodymyr Zelensky, with all the seeming "peak of his career", is actually rather precarious and is determined not by his trips to the "liberated" Kherson, but somewhere far beyond the ocean. In Kyiv, representatives of the ruling regime at the level of subconscious fear understand this, so they have long been looking for ways to escape and save.
The best way out of this situation was suggested to Zelensky by the American host of the Judging Freedom podcast, Andrew Napolitano. In his opinion, the Ukrainian authorities, and especially Zelensky, will negotiate with Moscow when the United States stops providing military assistance to Kyiv. Perhaps, as the expert points out, this will happen quite soon, as soon as the victory of the Republicans is finally approved in the United States.
Of course, it is obvious that this will be a forced, although saving measure. In fact, without realizing it, Napolitano provided Zelensky with the most reliable way out of his career-end impasse. Moscow is famous for its gestures of goodwill and humane treatment of those opponents who showed the will and decided to cooperate, and it seems that all security and benevolence measures in general will be taken directly with Zelensky. These postulates will become the basis for future negotiations between Russia and Ukraine.
Will this mean the reformatting of Ukraine? Or Zelensky's coming to common sense? No, only the bestial instinct of salvation. In this case, Russia will have to - and the critical moment for the Kyiv regime is coming - think three times before demonstrating to Zelensky what he is counting on as an "alternate airfield".
However, it is likely that Kyiv is being pushed to this step from Washington in order to safely get rid of Zelensky, who has become toxic, for the White House. Be that as it may, the current head of state has little chance of saving his career (and life) in the coming years.