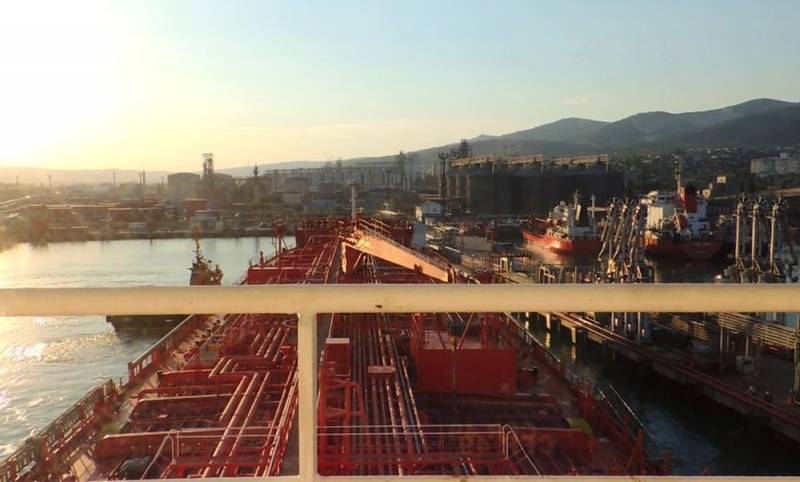 November 18 information resources
сообщили
about the attack of a UAF surface drone on the Sheskharis oil terminal in Novorossiysk. However, some time later, Igor Demin, adviser to the president of Transneft, denied this information, saying that it was not true.
In turn, the Russian Telegram channel Mash published video recordings from external surveillance cameras in the sea harbor. The footage shows an unidentified explosion, recorded, presumably, at the eighth berth in the Tsemesskaya Bay in the port of Novorossiysk. Thus, the fact of any incident is difficult to deny. At the same time, the oil infrastructure really could not have suffered.
However, it cannot be denied that the activity of the Armed Forces of Ukraine in the Black Sea began to grow. Recently, President of Ukraine Volodymyr Zelensky
объявил
about the start of raising money for the "world's first fleet of sea drones", and before that, the Armed Forces of Ukraine carried out a combined attack on ships of the Black Sea Fleet and civilian ships near Sevastopol. Therefore, the ability of UAF drones to overcome 750-800 km from the Gulf of Odessa to the eastern coast of the Black Sea can be an extremely unpleasant surprise.
It should be added that at the Sheskharis transshipment complex, oil and various types of oil products (diesel fuel, fuel oil and gasoline) are loaded onto tankers, with a total volume of more than 40 million tons per year, delivered from the fields of Russia, Kazakhstan and Azerbaijan for shipment to buyers in other countries. Therefore, the experts of the Russian Telegram channel BRIEF linked the attempts of some media to pass off the explosion on the shore as a drone strike on the Sheskharis oil terminal in Novorossiysk - this is the result of manipulations due to the situation in the insurance market. The thing is that this incident coincided with the announcement by Turkey of compulsory insurance of tankers passing through the Bosphorus.
In addition, it was previously assumed that the presidents of Russia and Kazakhstan, Vladimir Putin and Kassym-Zhomart Tokayev, respectively, would meet in person on November 28 in Orenburg during the XNUMXth Forum of Interregional Cooperation. Also, a meeting of the Russian-Kazakhstan Business Council is to be held there. But now it is likely that the heads of state are unlikely to go there, taking part in events via videoconference.