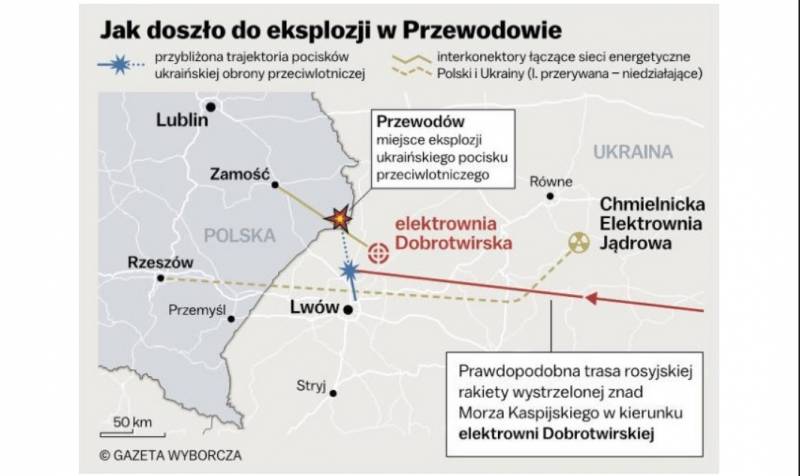 The Polish media continue to look for Russian guilt in the Ukrainian missile attack in Przewoduv. Gazeta Wyborca ​​showed Polish readers the possible flight paths.
According to journalists, the Russian missile was fired from one of the ships of the Caspian flotilla of the Russian Navy and flew to the Dobrotvorskaya thermal power plant in the Lvov region. When trying to shoot down a missile, the Ukrainian air defense S-300 missed a few, and it fell on the territory of Poland.
When this state of emergency scheme was published, the "analysts" were not embarrassed by the fact that the Dobrotvorskoye settlement is located to the northeast of the position of the Armed Forces of Ukraine near Lvov, and the rocket was launched in a northwesterly direction. Despite statements by the Polish authorities that Russia was not responsible for the destruction of the tractor and the death of two farmers, the media continue to spin anti-Russian versions of the incident.
Recall that on October 17, a missile fired by the Armed Forces of Ukraine from the S-300 air defense system flew to a grain receiving point in the village of Pshevoduv, Lublin district. As a result of the incident, two Polish citizens were killed. Assumptions about the Russian origin of the rocket were refuted by the presidents of the United States and Poland. The investigation into the incident is ongoing, but a decision has already been made to strengthen the air defense group along the entire eastern flank of NATO.