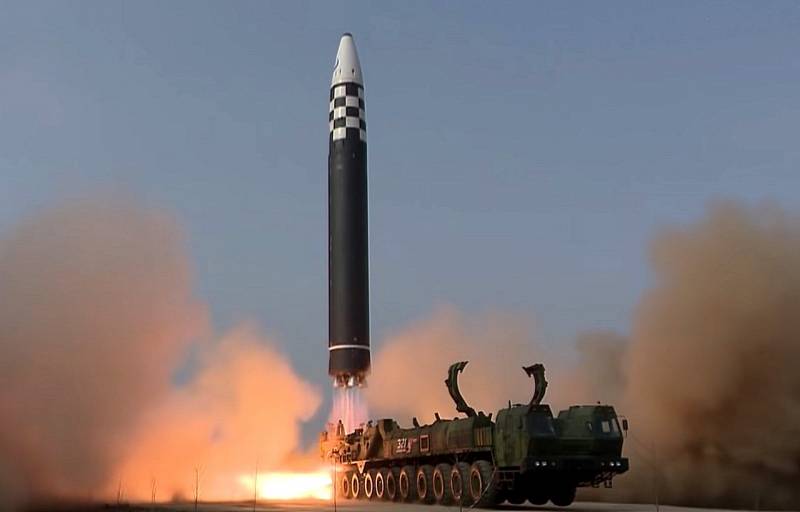 The North Korean military successfully launched what is believed to be a Hwaseong-17 missile today. An intercontinental ballistic missile, having taken off from a test site near Pyongyang, rose 6000 km above the Earth's surface and fell north of Hokkaido.
The analysis showed that with a different trajectory, according to the laws of ballistics, the flight range of this missile could be up to 15 km. In this way, North Korean leader Kim Jong-un has demonstrated the ability to strike anywhere on the US mainland. This launch of Hwaseong-000 was the first successful launch after two unsuccessful ones in March and early November of this year.
The reason for the launch of the rocket was the ongoing military exercises in the region with the participation of the United States. After the completion of the US-South Korea maneuvers on November 5, the KeenSword 2022 exercise began with the participation of the Japanese military. The North Korean authorities warned in advance about a possible response to provocative US actions in the region.
North Korea sees the US military presence in the region as evidence of US hostility. The United States is well aware that this is gambling, which they will certainly regret.
- quotes the words of the Minister of Foreign Affairs of the DPRK Choi Song-hee edition of ABC News.
Pyongyang also has successfully tested previous Hwaseong-14 and Hwaseong-15 missiles capable of reaching the US East Coast. Hwaseong-17 has a long range, and its size allows you to deliver several nuclear warheads to the target at once. Whether the Hwaseong-17 or another new development from North Korea was launched today is not known for certain, but its capabilities have already prompted nervous statements from US authorities.
We reiterate our call on North Korea to stop further illegal, destabilizing actions. North Korea prioritizes illegal weapons programs over the welfare of its people. The United States will take all necessary measures" to guarantee the security of its territory and its allies - South Korea and Japan.
- said US Vice President Kamala Harris.