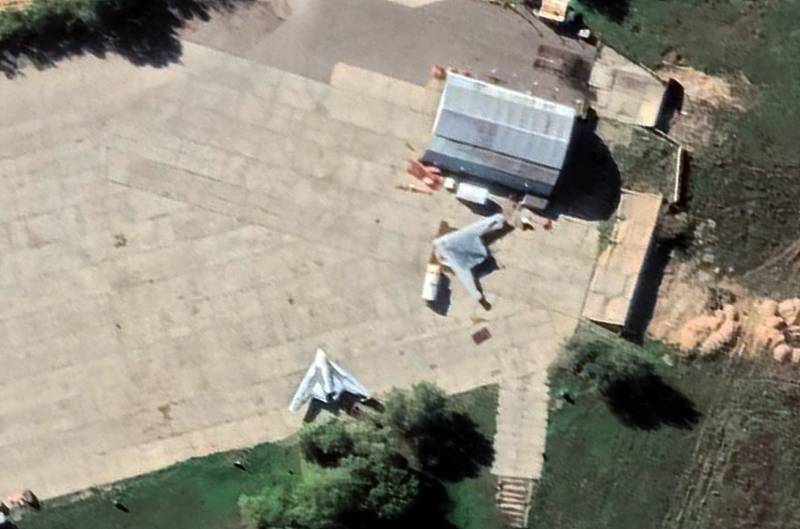 Data from GoogleEarth satellites confirm the readiness of the second copy of the heavy Okhotnik S-70 UAV. In the presented picture, two newest drones were rolled out of the hangar, probably at the airfield of the 929th State Flight Test Center named after V.P. Chkalov.
It is worth noting that the second copy of the S-70 is already equipped with a flat nozzle, and thus, the "Hunter" takes on its final form in anticipation of mass production. Recall that the heavy drones developed at the Sukhoi Design Bureau, according to the statement of the head of the United Aircraft Corporation, will begin to arrive at the Russian Defense Ministry from 2023.
The performance characteristics of the new UAV are strictly classified. Presumably, the maximum takeoff weight of the S-70 is about 25 tons with a combat load of 2,8 to 8 tons, according to military experts. The drone is made according to the "flying wing" aerodynamic scheme and is designed to work in conjunction with the fifth generation Su-57 fighters.
The first flight of the Okhotnik was completed in September 2019, and a month later, the first test of the S-70 bundle with the Su-57 fighter was carried out. At the end of last year, during flight tests, the Okhotnik successfully hit a ground target with a 500-kilogram unguided bomb. By the time of serial launch into production, the range of armament of the drone will be supplemented with new guided missiles and bombs, the characteristics of which are also classified.