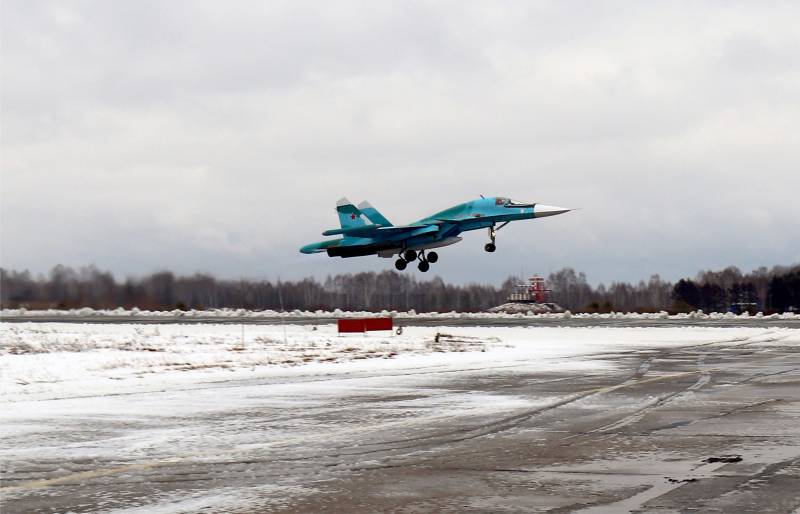 The air fleet of the Russian Aerospace Forces has been replenished with four new Su-34M heavy bombers. On November 16, the Novosibirsk Aircraft Building Plant handed over to the Ministry of Defense of the Russian Federation a new batch of aircraft that had successfully passed flight and ground tests.
Military Watch Magazine notes that the Su-34M is the longest-range tactical aircraft in the world.
The range of its flight is comparable to some strategic bombers, and the presence of the most modern means of electronic warfare makes it difficult for them to be intercepted by air defense systems.
writes MW.
The modernized Su-34M bombers are equipped with a large number of radars and sensors for target tracking and maximum pilot awareness of the situation in the air. The next stage of modernization may be the integration of the Su-34M with the new engine "product 30", which is being developed for the fifth generation fighter Su-57. This will improve the flight characteristics of the aircraft and further increase the range of the Su-34M.
Su-34M is currently the most popular aircraft in its class in the Russian Aerospace Forces and is produced exclusively for the domestic market.
The commissioning of the new squadron was also commented on in the relevant department of Russia.
Despite the unprecedented pressure of the collective West on the Russian industry, the key tasks of the military-industrial complex - the expansion of production, the acceleration of the pace and the increase in output - are being successfully carried out.
- said the Minister of Industry and Trade of the Russian Federation Denis Manturov.