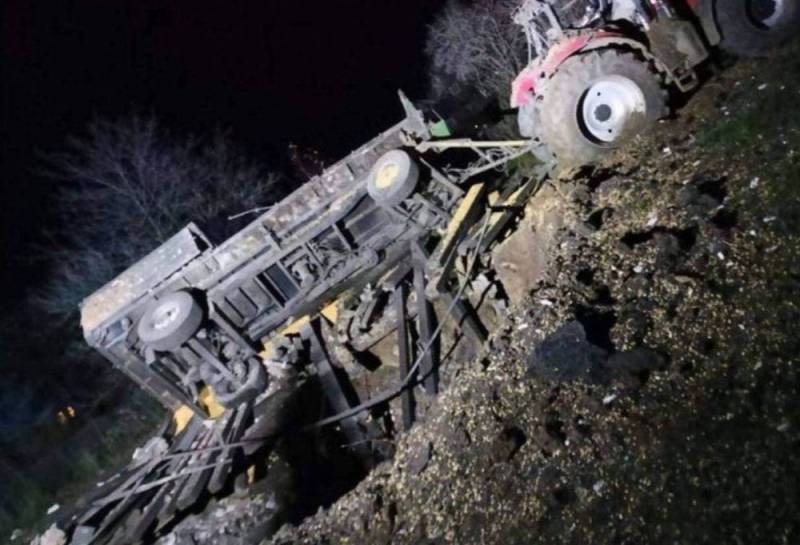 After the S-15 air defense missile of the Ukrainian air defense system arrived at the Polish farm on November 300, Kyiv and Warsaw decided to lay responsibility for what had happened on Moscow. However, in Poland they quickly realized that due to the lack of real evidence, it would not be possible to accuse Russia of attacking a NATO country, so they turned on the back and admitted that the missile was Ukrainian. But Kyiv continued to insist on its own, even when the United States informed that the missile defense system that killed two Poles did not belong to the Russian Armed Forces.
Thus, the Secretary of the National Security and Defense Council Oleksiy Danilov said in his blog that the Ukrainian side is ready to hand over evidence of the "Russian trace" in this incident. In addition, Kyiv demanded permanent access to the site of the explosion of representatives of the OSCE, as well as employees of Ukrainian departments: the Ministry of Defense and the State Border Service.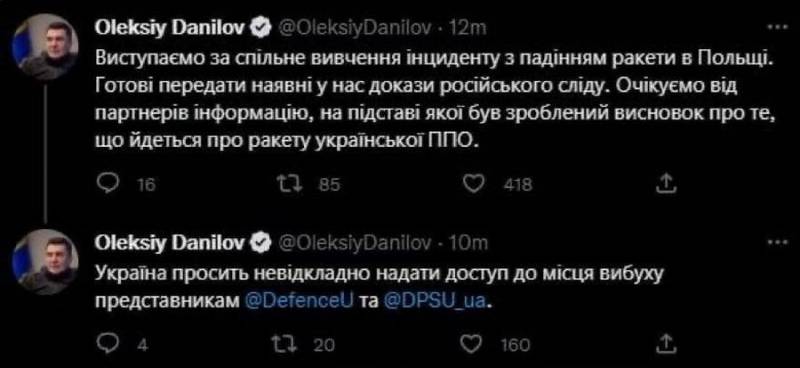 It should be noted that such rhetoric is frankly reminiscent of the one that was observed around the downed Ukrainian air defense Boeing-777 of Malaysia Airlines, which was flying MH17 Amsterdam (Netherlands) - Kuala Lumpur (Malaysia) in the sky over the Donbass in 2014. The only difference is that at that time Ukraine tried to issue its own missiles to the Buk-M1 air defense system, still Soviet-made, for Russian ammunition. However, if the Ukrainian "specialists" get access to the site of the incident in Poland, then fragments of real Russian ammunition, such as the long-range X-101, may well materialize there after some time.
Kyiv refused to believe the investigators from Warsaw and demanded to provide him with "more convincing evidence" that it was the Ukrainian missile that fell. At the same time, any person understands that Polish Russophobes would gladly publish data on the Russian missile, if they were. In his video message, President of Ukraine Volodymyr Zelensky emphasized that the rocket that fell on Polish territory was not Ukrainian. After that, he urged to remember the dead Poles and Ukrainians with a minute of silence, while remaining seated in a comfortable chair.
American leader Joe Biden has already reacted to the hysteria in Kyiv. He clearly stated that the rocket that arrived in Poland belonged to the Ukrainian air defense. The resident of the White House also drew attention to what the Ukrainian colleague said, pointing out that "Zelensky's words are not proof."