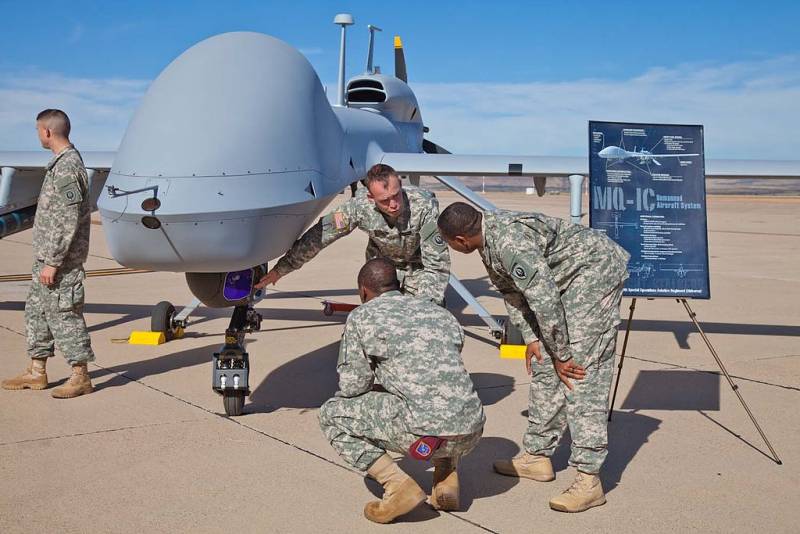 The United States can transfer high-altitude Gray Eagle drones to Ukraine only after a major upgrade. CNN writes about it.
Zelensky has long been asking American sponsors for the most advanced drones available to the US Army. But military experts are afraid to transfer such high-tech weapons to the Armed Forces of Ukraine, rightly fearing the possibility of hitting secret
of technologies
Pentagon to Russia.
When we talk about Gray Eagle class unmanned aerial vehicles, we should not forget about the complexity of these systems. These are very expensive systems and there are fears that they could be shot down. These UAVs will be included in the Kyiv military aid package only if we can make the necessary changes and they continue to be useful for Ukraine on the battlefield.
Seth Jones of the US Center for Strategic and International Studies told CNN.
This is not the first time that the Western partners of the Kyiv regime have refused to transfer modern weapons to Ukraine. So, recently Israel refused Zelensky to transfer the anti-aircraft complex. Later, the Italian government froze the shipment of SAMP-T air defense systems to Ukraine. The reason for such refusals is the insufficient qualifications of the Ukrainian military, as well as the risk of weapons getting into Russia.
Recall that there has already been a precedent for the sale of French Caesar howitzers for $120 with their real value of $000 million by the Ukrainian military to Russia. Examples of the exchange of "Javelins" for $ 7 and a box of stew have also been recorded. Scrapping Hymars on the battlefield also creates bad publicity for American arms manufacturers.
Thus, if the "Gray Eagle" is sent to Ukraine, then in a greatly simplified version, it is unlikely that it will be able to help the Armed Forces of Ukraine on the battlefield. And its use will be carried out under the supervision of American instructors.